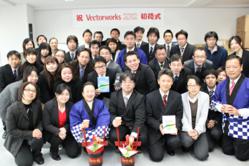 Columbia, MD (PRWEB) January 13, 2012
Nemetschek Vectorworks, Inc. is pleased to announce that its Tokyo-based distributor, A&A Co., Ltd., has released the Japanese-language version of the Vectorworks® 2012 line of design software, including: Vectorworks Designer, Architect, Fundamentals and Renderworks®.
"We are excited to ship the long-awaited Japanese version of Vectorworks 2012 software," said Kazuko Uchida, President of A&A. "In Japan, we say 'HATSUNISHIKI'—first shipment party—to celebrate the release of the new software at the beginning of the year."
The powerful enhancements found in the Vectorworks 2012 products, including more than 100 performance and usability improvements, will save designers time and increase their productivity. The software's intuitive interface allows users to easily conceptualize their designs, while innovative, flexible tools let them document their plans and easily collaborate with best-in-class open BIM workflows.
To view pictures of the first shipment party from A&A (HATSUNISHIKI), please visit our Flickr page: http://tinyurl.com/7vrekje
The English-language version of the Vectorworks 2012 product line was released in the U.S., Canada, U.K., Australia, New Zealand and other international markets on September 13, 2011. The European localized versions were released on October 31, 2011, and included language-specific versions for Austria, France, Germany, Italy, Liechtenstein, Switzerland, Belgium, Luxembourg and the Netherlands, and the Norwegian version was released on December 13, 2011. The Spanish-language version of Vectorworks 2012 was released on November 3, 2011.
To find a distributor of a localized version, please visit http://www.vectorworks.net/international.
About A&A
Established in 1984, A&A Co., Ltd. develops and sells software for architectural designers, with the motto "Use the best available, Create the best that's not." For more information, visit: http://www.aanda.co.jp/
About Nemetschek Vectorworks, Inc.
Nemetschek Vectorworks, Inc. is a wholly owned subsidiary of Nemetschek AG and has been developing software since 1985. The Vectorworks line of software products provides professional design solutions for more than 450,000 designers in the AEC, entertainment and landscape design industries. With a tradition of designing flexible, versatile, intuitive and affordable CAD and BIM solutions, Nemetschek Vectorworks continues to be a global leader in 3D design technologies. For more information, visit http://www.vectorworks.net.
# # #