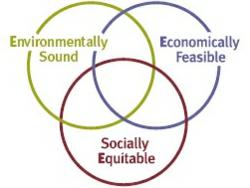 The introduction of more sustainable methods has followed various reasoning: a company's image to be "green", pure economics, legislation or genuine convictions.
Verona (PRWEB) January 13, 2012
Tradition and innovation are often difficult to combine, especially in the wine business where customs are of special importance to winemakers. However, since years the topic of sustainability has brought a lot of innovation into the production process of wineries without changing the true character of the wine tradition. The introduction of more sustainable methods has followed various reasoning: a company's image to be "green", pure economics, legislation or genuine convictions.
Being it ecological, natural, organic or bio-dynamic production à la Rudolf Steiner, the practices of winemakers can often easily been identified as either 'green-washing' or having a legitimate holistic approach to wine production.
True sustainable methods translate basically into balancing three areas: Environmentally Sound, Economically Feasible and Socially Equitable. Today, OperaWine focuses on four wineries that aim at high ecological standards and will be present on March 24th for the "Finest Italian Wines, 100 Great Producers" tasting in Verona: Lungarotti, Planeta, Mezzacorona and Di Majo Norante.
With an estimated output of 2.5 million bottles per year, ecological methods are important to the Umbrian winery Lungarotti, not only because of economical reasoning but also for long-term environmental considerations. Chiara Lungarotti together with sister Teresa Severini are committed to innovation as the environment has always been extremely important: "We do not work with herbicides and don't use chemical fertilizers either, but we use manure. At Montefalco we started to turn the wine process into an organic one last year and a few years ago we initiated a biomass project in collaboration with the University of Perugia and Ministry of Agriculture at the European level. Since our goal is to be self-sufficient in thermical energy needs, we also pick up all the winter pruning shoots and chip them in order to burn them and generate energy for hot water or heating." In addition to recycling grape vines and biomass initiatives, mini-weather stations constantly update on conditions on the 250ha of vines.
The Sicilian winery Planeta also builds upon ecological wine production and aims at 100% sustainability. The winemakers' use of renewable energy sources include a large photovoltaic installation (300m2) together with a biomass centre, rigorous recycling and bio-architecture to minimise the impact of the winery in the landscape. The producer is also an ardent promoter of the SOSTain Project, which – in collaboration with the University of Piacenza – is the first large Italian certification program of environmental viticulture to continually improve production methods towards increasing levels of sustainability.
At the foot of the Italian Dolomites sits the winery Mezzacorona, which strives for organic standards. The vineyards are farmed following a modern biological system to fight harmful insects that limits their reproduction through pheromone over-stimulation (concept of "sexual confusion"), avoiding extra treatments with pesticides. Further reduction of chemical treatments translates in minimising residual of copper or sulphur in the wine. Water and energy management together with balanced vineyard usage are to increase sustainability and with 70% of the wineries being build underground the use of air conditioning in the cellars is significantly reduced. Photoelectric in conjunction with hydroelectric plants also fulfill the majority of the energetic needs and recycling is as a normal practice as adhering to other quality or environmental guidelines (IFS, BRC, EMAS, ISO 14000).
The cantine Di Majo Norante, north of the Gargano in Molise, has produced wine since 1800 and respect for nature ranks high as only fertilizers of organic and mineral origin are used for wine production. Regular weeding and organic parasite control methods are used, while the pruning residues are removed to prevent any chance of infection. The winery received certification for organically grown grapes from AIAB (Associazione Italiana per l'Agricoltura Biologica) in 1997 and continues to improve its ecological methods.
Many Italian winemakers also participate in the strongly funded Bayer CropScience Magis project to innovate practices in the agrarian sector. The project will extend its funding by 2015 to 850mil. € and seeks to anticipate the European directives to meet the demands of industry and consumers in terms of sustainability. Some of the Magis project participants include Casa Vinicola Zonin, Barone Ricasoli, Castello Banfi, Santa Margherita and Planeta.
About:
"OperaWine" (http://www.operawine.it) is discovering the traditions, identity and heritage of the food and art in Italy, whilst falling in love with Italian wines. Exclusive initiatives related to Italian wine, food and culture is to encourage international operators, journalists, sommeliers, wine educators, and high profile wine aficionados alike to explore the fascinating history and context of Italian wine production.
Wine Spectator is the world's leading authority on wine that reaches more than 3 million readers worldwide, exploring wine's role in contemporary culture and delivering expert reviews of more than 15,000 wines each year. Wine Spectator is solely responsible for the choice of producers at the event.
Vinitaly is the largest wine fair in the world with over 4,500 producers and 150,000+ visitors (including 45,000 from foreign countries). The event is held every year in Verona, Italy (46th edition: Verona 25-28 March 2012).
For further information, please contact:
media(at)operawine(dot)it
http://www.operawine.it
tel: +39 045 8101447
# # #