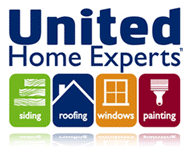 On Saturday, January 14th and Sunday, January 15th, the specialists at United Home Experts will proudly display Marvin® windows at the Center of New England Home Show
Ashland, MA (PRWEB) January 13, 2012
On Saturday, January 14th and Sunday, January 15th, the specialists at United Home Experts will proudly display Marvin® windows at the Center of New England Home Show at the Sturbridge Host Hotel and Conference Center at 366 Main Street in Sturbridge, MA. Show attendees will have the opportunity to explore new products, get home improvement ideas and speak directly to exhibitors to garner the information they will need to make the best choices for their home and budget. Show hours are Saturday from 10 a.m. to 5 p.m., and Sunday from 10 a.m. to 4 p.m.
In 2011, United Home Experts had an immensely successful year with the introduction of new products including Marvin® and Integrity® from Marvin® windows and doors. These new products met with strong positive reactions from United's customer base, and stood up well to the extreme weather conditions experienced in Massachusetts last year. The Center of New England Home Show offers United an early opportunity out of the starting blocks this year to promote Marvin® products for replacement windows in Central Massachusetts, where it hopes to increase its customer base.
Marvin's products are gaining popularity due to their superior insulation and functionality with the warm appeal of real wood. Integrity® products are a perfect choice for fiberglass windows in Massachusetts, and are made from a superior fiberglass called Ultrex fiberglass, which is 8 times stronger than vinyl. Marvin® and Integrity® by Marvin® doors and windows offer homeowners durability and energy efficiency without losing any of their aesthetic appeal.
Come down to the New England Home Show and see United Home Experts' large range of Marvin® products for yourself. Speak to the United exhibitors to see which products are best for the home. United Home Experts offers professional installation of all Marvin and Integrity replacement windows and doors. They will truly create an easy, seamless experience, from beginning to completion, of any replacement project you may be planning. All the information a customer will need can be obtained from the experts at the United booth at the Center of New England Home Show at the Sturbridge Host Hotel and Conference Center.
About United Home Experts:
Massachusetts-based United Home Experts is a full-service home improvement company specializing in providing quality siding, roofing, painting and replacement window services in Rhode Island, Boston, New Hampshire and Central and Eastern Massachusetts. United prides itself on its workforce of skilled craftsmen and field managers, who focus on customer satisfaction and use the latest technology and equipment to ensure efficiency and maintain the highest standards of quality. Learn more at: http://www.unitedhomeexperts.com/
# # #