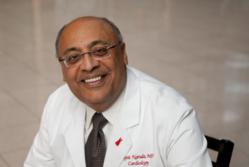 New York, NY (PRWEB) January 18, 2012
Jagat Narula, MD, PhD, Philip J. and Harriet L. Goodhart Chair in Cardiology in the Department of Medicine at Mount Sinai School of Medicine has been honored with the prestigious American College of Cardiology (ACC) Gifted Educator Award for 2012. Dr. Narula is a renowned translational researcher and educator in clinical cardiology and imaging, known for his contributions in preventing and understanding heart attacks and heart failure.
The Gifted Educator Award is given to individuals with innovative, outstanding teaching characteristics and compassionate qualities, who have made major contributions to the field of cardiovascular medicine. Dr. Narula will be presented with the award at the ACC's 61st Annual Scientific Sessions in Chicago on March 26, 2012.
Dr. Narula is the Director of the Cardiovascular Imaging Program, Associate Dean of Global Health, and Professor of Medicine at Mount Sinai. He has been an unparalleled mentor throughout his career, with 20 of the fellows working in his research laboratory awarded young investigator awards from prestigious professional organizations.
"As much as I have learned from my mentors and through my own research, I have learned and benefitted greatly from my students as well," said Dr. Narula. "It has been a pleasure to work with so many talented physician-scientists who have contributed so much to the field of cardiovascular medicine."
Pioneering work from Dr. Narula's has included the description of the phenomenon of heart muscle cell suicide and detection of atherosclerotic plaques that are likely to cause acute heart attacks. His research has been funded in part by the grants from the National Institutes of Health. With more than 700 original research publications or presentations and more than 25 books or journal supplements edited, Dr. Narula has received numerous awards from professional organizations such as the American Heart Association. As a translational researcher, he has the distinction of publishing in both basic science and clinical journals, including Science, Nature Medicine, the New England Journal of Medicine, and Lancet.
"Dr. Narula embodies Mount Sinai's commitment to translational research and education in cardiology," said Valentin Fuster, MD, PhD, Physician-in-Chief of The Mount Sinai Medical Center, and Director of Mount Sinai Heart, The Zena and Michael A. Wiener Cardiovascular Institute, and the Marie-Josée and Henry R. Kravis Center for Cardiovascular Health. "As an educator, Dr. Narula has passed that commitment on to so many students who have become extraordinary physicians and scientists themselves. This award is well-deserved."
Dr. Narula serves on various committees of the American College of Cardiology and the American Heart Association. He is the Editor-in-Chief of the Journal of American College of Cardiology-Cardiovascular Imaging, the founding Editor-in-Chief of the journal, Global Heart, and a former editor of the Heart Failure Clinics of North America. Dr. Narula is actively involved in population-based heart attack prevention programs, including Heart Attack Prevention Program for You (HAPPY).
After completing his cardiology fellowship training and PhD in Cardiovascular Immunology from the All India Institute of Medical Sciences in Delhi, India, Dr. Narula began work at Massachusetts General Hospital and Harvard Medical School in 1989. There, he completed cardiology, heart failure and transplantation, and nuclear cardiology fellowships, and joined the cardiology faculty. In 1997, he joined Hahnemann University School of Medicine, Philadelphia, where he was Thomas J. Vischer Professor of Medicine, Chief of the Division of Cardiology, Vice-Chairman of the Department of Internal Medicine, and Director of Heart Failure and Transplantation Center.
He subsequently joined University of California Irvine School of Medicine as Chief of the Division of Cardiology, Associate Dean for Research, and Director of the Cardiovascular Center of the UC Irvine's Douglas Hospital. He was also the Director of Memorial Care Heart & Vascular Institute, Long Beach Memorial Hospital, and Medical Director of the Edwards Lifesciences Center for Advanced Cardiovascular Technology in UC Irvine's Henry Samueli School of Engineering, before joining Mount Sinai in April, 2011.
About The Mount Sinai Medical Center
The Mount Sinai Medical Center encompasses both The Mount Sinai Hospital and Mount Sinai School of Medicine. Established in 1968, Mount Sinai School of Medicine is one of the leading medical schools in the United States. The Medical School is noted for innovation in education, biomedical research, clinical care delivery, and local and global community service. It has more than 3,400 faculty in 32 departments and 14 research institutes, and ranks among the top 20 medical schools both in National Institutes of Health (NIH) funding and by U.S. News & World Report.
The Mount Sinai Hospital, founded in 1852, is a 1,171-bed tertiary- and quaternary-care teaching facility and one of the nation's oldest, largest and most-respected voluntary hospitals. In 2011, U.S. News & World Report ranked The Mount Sinai Hospital 16th on its elite Honor Roll of the nation's top hospitals based on reputation, safety, and other patient-care factors. Of the top 20 hospitals in the United States, Mount Sinai is one of 12 integrated academic medical centers whose medical school ranks among the top 20 in NIH funding and US News & World Report and whose hospital is on the US News & World Report Honor Roll. Nearly 60,000 people were treated at Mount Sinai as inpatients last year, and approximately 560,000 outpatient visits took place.
For more information, visit http://www.mountsinai.org/.
Find Mount Sinai on:
Facebook: http://www.facebook.com/mountsinainyc
Twitter: @mountsinainyc
YouTube: http://www.youtube.com/mountsinainy
# # #