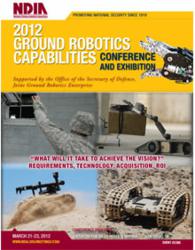 "There is no better time or place than this event to showcase these kinds of capabilities to the very people that can take them from the demo floor to the field and beyond." Jorgen Pedersen, NDIA Robotics Division Vice Chair
ARLINGTON, VA. (PRWEB) January 17, 2012
The Robotics Division of the National Defense Industrial Association (NDIA) announced today its call for demos of new, cutting-edge robotic technologies. This is a preeminent opportunity to present capabilities to senior officials and leading decision-makers in the field of development, acquisition and procurement for the government and related industries.
"Seeing a live demo has such a tremendous impact on visualizing not only current competencies but future possibilities. There is no better time or place than this event to showcase these kinds of capabilities to the very people that can take them from the demo floor to the field and beyond." Jorgen Pedersen, NDIA Robotics Division Vice Chair President, and CEO of RE2, Inc.
Demonstrations that go beyond current warfighting solutions and explore expanded usage and applications of robots for other purposes, such as security, logistics and training are highly encouraged. Demos must relay this year's theme, "What Will it Take to Achieve the Vision? Requirements, Technology, Acquisition, ROI?" successfully.
That theme is based on the four goals issued by the Department of Defense in its recently published Ground Robotics Vision: Focused Technology; Balanced Requirements; A Compelling Return on Investment; and Streamlined Acquisition.
Having the opportunity to showcase new technology at this annual event is an unparalleled chance to be in front of government customers and potential partners, including major national defense contractors and defense robotics OEMs.
Interested organizations must upload their demonstration concepts by COB January 31, 2012 via the NDIA website at the following link, and complete all required information: http://bit.ly/xmKyag .
Information on the Ground Robotics Conference can be found here: http://bit.ly/uEg5XZ
The National Defense Industrial Association (NDIA) is America's leading Defense Industry association promoting national security. NDIA is proud to provide a legal and ethical forum for the exchange of information between Industry and Government on National Security issues. Our members foster the development of the most innovative and superior equipment, training, and support for the warfighters and first responders represented by our Divisions.
###