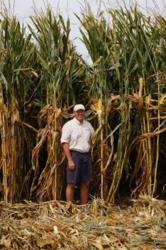 We are looking for technology that will help us get the most out of the hybrids we plant.
Charles City, VA (PRWEB) January 17, 2012
A 429 bu/acre corn yield is impressive even in ideal growing conditions. But the fact that progressive farmer, David Hula achieved such an outstanding yield response in a season marked by excessive moisture followed by drought-like conditions and the impending threat of hurricane Irene is nothing short of amazing.
Hula has actively participated in the National Corn Growers Association yield competitions since the late 1990s, achieving state and regional records with his no-till corn on corn. He credits his continued success in adapting successful crop management practices and integrating new technology to push yields. "We tried some new technology again this year and Stoller's Bio-Forge and X-Tra Power were two of the products we used," shared Hula. "We had more sunlight than in past years and that helped to enhance photosynthesis and ultimately yield." Because of difficult planting and harvest season Hula was limited on the number of test and control plots he was able to evaluate. However he indicated strong seedling vigor and large root systems where he had used the Stoller technology. "We are looking for technology that will help us get the most out of the hybrids we plant. And we'll be testing Stoller again in 2012 to verify consistent, positive results." explained Hula.
Bio-Forge, StollerUSA's flagship product, maximizes genetic expression by up-regulating key genes associated with root development for enhanced nutrient uptake and appropriate hormone balance. Bio-Forge also offsets the effects of transient stress by helping to control ethylene levels.
"Stoller technology—and specifically Bio-Forge—offers farmers a new, inexpensive tool to help manage their crops," explains StollerUSA General Manager and Plant Physiologist Dr. Wayne Smith. "We're pleased to see so many progressive growers, like Dave Hula, use the technology to push the limits of crop production. Our goal is to take the insight and experience of these same growers to help us drive the direction of crop health innovation."
Over one third of the 2011 National Corn Growers Association yield contest winners, including Hula, employed Stoller technology in their crop management programs. Farmers across the nation note that Bio-Forge produces large, robust root systems with continuously growing root tips, early and vigorous growth of seedlings, increased nodulation, thicker and sturdier stalks and deep, green foliage. Application timing is extremely flexible. Options include in-furrow or banded with starter solutions, through irrigation systems, as a foliar spray or mixed in the tank with most pesticides. Rates may vary depending upon a grower's situation but the standard recommendation is 1 pint/acre.
StollerUSA is dedicated to helping producers enhance yields by maximizing genetic expression. The result is enhanced marketable yield, improved return-on-investment and improved tolerance to disease and other stress. Only Stoller products contain Stoller's proprietary technology that is proven to ensure optimum plant growth by maintaining appropriate hormone balance in combination with supporting nutrients. Validated by Universities nationwide, Stoller's unique formulations result in healthier, more productive crops that are better able to withstand stress and achieve their full genetic potential.
About StollerUSA
Celebrating over 41 years in agribusiness, StollerUSA markets a full line of products to help farmers increase crop yield and quality. StollerUSA, headquartered in Houston, is actively engaged in basic and practical research to enhance crop productivity in more than 50 countries.
###