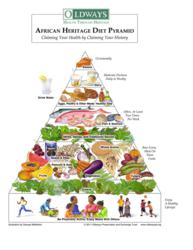 The African Heritage Diet Pyramid can provide a roadmap for enjoying healthy, affordable, delicious foods that meet the guidelines promoted today by health professionals everywhere.
Boston, MA (PRWEB) January 19, 2012
Health experts and scientists believe that heritage is a strong motivator for change. Black History Month, this February, is the perfect time to explore the healthful culinary traditions of the African Diaspora – from Africa, the Caribbean, South America and the American South – and claim your health by claiming your history.
Oldways, the international nonprofit widely recognized for its expertise with traditional diets, created the African Heritage Diet Pyramid with the help of an expert panel of nutrition scientists, community health experts and historians by looking closely at African culinary roots – heritage. The Huffington Post even named the Pyramid, an evidence-based and practical tool for African American communities, one of the biggest Black Health Breakthroughs of 2011.
"Returning to the foods of our ancestors is important because scientific studies show that conditions like type 2 diabetes, obesity and heart disease skyrocket as traditional diets are left behind," said Sara Baer-Sinnott, president, Oldways. "The African Heritage Diet Pyramid can provide a roadmap for enjoying healthy, affordable, delicious foods that meet the guidelines promoted today by health professionals everywhere."
The African Diaspora is the term commonly used to describe the mass dispersion of peoples from Africa during the Transatlantic Slave Trades, from the 1500s to the 1800s. These African ancestors landed in regions that featured different local foods and cuisines, as well as other cultural influences that shaped their unique cooking styles. The overall pattern of a plant-based, colorful diet built on vegetables, fruits, tubers and grains, nuts and peanuts, healthy oils and seafood (where available) was similar throughout the four regions, although with wonderful cultural distinctions.
According to Jessica Harris, PhD, Cookbook Author, Professor and Oldways Program Advisor, inventiveness and resourcefulness in cooking were important at this time when millions of people from Western and Central Africa scattered to different regions throughout the Americas and the Caribbean.
For instance, cabbage leaves were often substituted for other traditional leaves that wrapped foods while cooking, and people newly living near the coast relied on the bounty of fresh seafood found there.
"The African Heritage Diet Pyramid, traditions and lifestyle are about cooking and sharing meals to sustain our modern health," said Dr. Harris. "Cooking empowers us to choose what we want for ourselves and families, and connects us to our earth, food, roots, health, creativity and, most importantly, to each other."
Dr. Harris said that from the 450,000 people that entered during the period of enslavement, there are more than 40 million people of African descent living in the U.S. today.
Based on the African Heritage Diet Pyramid, which depicts an overall total diet, Oldways offers these easy-to-follow tips for those wanting to return to their healthy roots:

Go For Greens. Greens like spinach, collards, mustards and turnip greens are a big part of African heritage cuisine; they help keep your blood, liver, and kidneys in top health. Cook them lightly to retain all of their extraordinary nutrients!
Every day, enjoy vegetables, fruits, mostly whole grains and cereals, beans, herbs and spices, peanuts and nuts, and healthy tubers like sweet potatoes. These are the core African Heritage foods to shop for, prepare and eat most often.
Tuna, mackerel and salmon are rich in heart-healthy omega-3 fatty acids. Sardines and other small, bony fish are rich sources of calcium and vitamin D. Enjoy them grilled, broiled or lightly pan cooked in water and a tiny bit of oil.
Use small amounts of healthy oils, like sesame or olive oil for dressings, and canola, red palm oil, or extra virgin coconut oil for cooking.
Eat eggs, poultry and other meats moderately, in small portions, or use as garnishes for other dishes.
Consume dairy in small portions, and if you are lactose intolerant, enjoy other calcium-rich foods like greens, beans and almonds.
Sweets, at the top of the pyramid, are foods to eat less often, limiting them to once a week or at special meals.
Drink plenty of water throughout the day. If you drink alcohol, limit it to one glass per day for women, two for men.
The pyramid, recipes, grocery lists, heritage information and an African Heritage 101 brochure are all available for free on Oldways' African Heritage & Health Portal.
In addition to the African Heritage Diet Pyramid, Oldways has created and introduced four other healthy eating pyramids (Mediterranean, Asian, Latin American and Vegetarian), along with health/education outreach programs. These pyramids have been used by millions of people and are seen in homes, doctors' offices, supermarkets, RD offices, cookbooks, journal articles, textbooks, and more throughout the world.
About Oldways
Oldways (http://www.oldwayspt.org) is a nonprofit food and nutrition education organization, with a mission to guide people to good health through heritage, using practical and positive programs grounded in science and tradition. Simply, we advocate for the healthful pleasures of real food. It is the parent organization for The Whole Grains Council and The Mediterranean Foods Alliance, and is well-known for creating the Whole Grain Stamp and the Mediterranean Diet Pyramid.
###