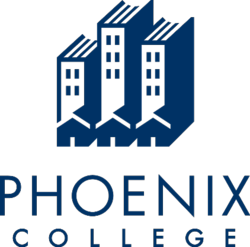 Our students' college experience will be positively impacted from their first day on campus when they enroll as a new student, as they pursue and expand their interests by taking an active role in campus life. --Dr. Anna Solley, Phoenix College President
(PRWEB) January 15, 2012
A grand opening to officially commemorate the completion of Phoenix College's new One-Stop Enrollment Center and Student Union will be held on Thursday, January 26, 2012.
This historically momentous event for Phoenix College will be celebrated on the steps of the Hannelly Center South Plaza with an official ribbon cutting ceremony from 1:30 – 2:30 p.m.
Guest speakers from the college, the architectural, design and construction teams, and the Maricopa Community Colleges District will be featured. Refreshments and building tours also will be offered.
The completion of this phase of the One-Stop Enrollment Center signals "a new era for Phoenix College" in the delivery of student services, says Yira Brimage, vice president of student services at Phoenix College. The enrollment services feature a balanced approach of high touch and high tech, she added.
The new One-Stop Center has everything students need to experience a streamlined enrollment process: Financial Aid, Admissions and Records, Advisement, Recruitment & Retention, International Education, Veterans Services and the Cashiers Office. The Center also houses university transfer advisement offices for both Arizona State and Northern Arizona University.
On the same day of the Grand Opening, the new Student Union, also known as the "Bears Den", will hold an open house from 11 a.m. until 3 p.m., offering building tours, free hot dogs, cotton candy and popcorn.
Many of the historic features were preserved during the remodel of the 10,000-square-foot building, while new technologies and ergonomic designs were used to enhance the space, providing academic work-group areas, meeting rooms, computer workstations, a game room and spacious patio, as well as a coffee bar. The Student Union is home to Student Life and Leadership, ACE, Hoop of Learning, and the Student Leadership Council.
The second phase of the construction project will see a new Cafeteria and outdoor patio built in the existing Hannelly Center as well as renovated areas that will provide space for Counseling, Career Services and the Testing Center. The popular Sophomore Square will also be enhanced with inviting landscaping and gathering spaces as part of the Phase II project planned for completion in January 2013.
"Our students' college experience will be positively impacted from their first day on campus when they enroll as a new student, and well into their college career, as they pursue and expand their interests by taking an active role in campus life," said Phoenix College president Dr. Anna Solley.
Phoenix College is one of the 10 regionally accredited Maricopa Community Colleges.
###