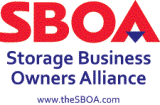 Farmington Hills, MI (PRWEB) January 17, 2012
The Storage Business Owners Alliance (SBOA), the premier buying group for the self storage industry, announced today that it is hosting the first SBOA Member-Vendor Marketplace on April 24th-25th in Orlando. The SBOA Marketplace immediately precedes the joint SSA-Florida Self Storage Association Trade Show scheduled for April 25-27th, 2012.
The Marketplace will provide self storage owners and operators a place to meet directly with industry-leading vendors and learn about exclusive money-saving opportunities offered to SBOA Members.
The event will feature a cocktail reception on April 24th that is open to all attendees. On April 25th, the Marketplace will begin with breakfast and an opening address by CubeSmart Chairman & CEO Dean Jernigan. "We are honored that Dean Jernigan will be addressing our attendees" stated Ian Burnstein, President and Co-Founder of the SBOA. "Dean and his organization understand the value of joining a buying group and support the SBOA's mission," Burnstein added.
The SBOA Vendor-Member Marketplace will showcase SBOA vendors that are leaders in their respective segments of the self storage industry. These vendors include (listed alphabetically): America's Office Source, CertaPro Painters, Creative Blend Design, CubeSmart Network, GreenFlag Transworld, Ikop, OpenTech Alliance, Pitney Bowes, SBOA Communications, SBOA Merchant Services, SBOA Tenant Insurance, SiteLink, SpareFoot, Storage Clicks, Storage Commander and Yellow Page Logic.
The SBOA Vendor-Member Marketplace will afford self storage owners and operators the opportunity to meet with vendors in a personalized setting to gain firsthand knowledge of money-saving products and services offered to SBOA Members and perspective members. The event is open to all attendees and is free of charge. Space is limited, with a registration deadline of April 1st, 2012 to ensure your place at the event. For more information, please email the SBOA at info(at)thesboa(dot)com, or call 248-254-9000
###