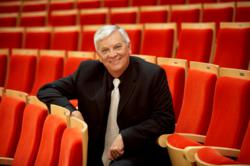 There were some very strong compositions presented to us this year. It was encouraging to see the quality of submissions from these young composers: It indicates a very bright and hopeful future for American choral music.
Santa Ana, CA (PRWEB) January 15, 2012
Pacific Chorale today announced John Orfe of Metamora, IL and Michael Rickelton of Baltimore, MD as the winners of its 2012 Young Composers Competition. Orfe's "Fire!" on text by Langston Hughes and Rickelton's "Pentecost" on text by Dana Gioia will receive their world premieres this spring, performed by the 24-voice John Alexander Singers under the direction of John Alexander. The composers will each receive an honorarium of $1,500 and have the opportunity to attend the premiere performance on March 11, 2012 in Meng Concert Hall at California State University, Fullerton.
The concert, titled American Voices, also features works by prominent American choral composers including Samuel Barber, Norman Dello Joio, Morten Lauridsen, John Muehleisen, Dale Warland and Eric Whitacre. Tickets to the concert are available through the Clayes Performing Arts Center box office at (657) 278-3371. The concert repertoire will be recorded for a future commercial release.
Pacific Chorale's 2012 Young Composers Competition, created to encourage the proliferation of America's choral music, was opened in fall 2011 to choral composers under the age of 35. Robert Istad, Director of Choral Activities at California State University, Fullerton; and John Alexander, Pacific Chorale's Artistic Director, narrowed the applicant pool to eight finalists, including the two winners. Alexander comments, "There were some very strong compositions presented to us this year. It was encouraging to see the quality of submissions from these young composers: It indicates a very bright and hopeful future for American choral music." The six competition finalists chosen for honorable mention were:

Travis Alford of West Newton, MA, for "Melange Mine Own (Whitman Fragments)"
Christian Guebert of Orange, CA, for "Aboard at a Ship's Helm"
James Kallembach of Chicago, IL, for "The Letter"
Jonathan Kolm of Alexandria, VA, for "The Beauty Been"
Greg Simon of Denver, CO, for "One"
Roger Zare of Ann Arbor, MI, for "Invocation"
ABOUT THE COMPETITION WINNERS
John Orfe has fulfilled commissions for Duo Montagnard, Dez Cordas, Alarm Will Sound, the NOVUS Trombone Quartet, the Two Rivers Chorale and the Northwestern College Choir, Ludovico, the Music Institute of Chicago, the Champaign-Urbana Symphony Orchestra, the Diocese of Peoria, the Evansville Philharmonic Orchestra, and the Lila Muni Gamelan Ensemble. He is a winner of a Jacob K. Javits Fellowship, a Tanglewood Fellowship, the William Schuman and Boudleaux Bryant Prizes from BMI, and eleven Standard Awards and the Morton Gould Award from ASCAP. His works for solo, chamber, choral and orchestral ensembles have been performed in Russia, Denmark, Canada, Germany, the Baltics, Italy, the United Kingdom, Australia, Thailand, Peru, Ecuador, Costa Rica and throughout the US, earning praise from The New York Times, LAWeekly, San Francisco Chronicle, Boston Globe, Die Welt, and Hamburger Abendblatt. He is a winner of a 2008 Charles Ives Scholarship from the American Academy of Arts and Letters and was awarded the DMA by the Yale School of Music in February 2009. Dr. Orfe lives in Peoria, IL, where he is Temporary Assistant Professor of Music at Bradley University and Composer-in-Residence of the Peoria Symphony Orchestra.
Regarding "Fire!" Orfe writes, "Langston Hughes' poem, written in vernacular idioms, leapt off the page when I first read it. Inspired by the Last Judgment in the Book of Revelation, where every thought, word, and deed will be given its ultimate reward, the poem deals with themes of justice, mercy, guilt, hope, fairness, and accountability. In setting this poem I decided to engage and pay tribute to the rich traditions of African-American spirituals and choral singing."
Michael Rickelton, a native of Charlotte, NC, earned the Bachelor of Music degree in music education from Lipscomb University in Nashville, TN, where he studied composition with Dr. Jerome Reed. In the summer of 2005, Michael received a scholarship to attend the European American Musical Alliance program at the Ecole Normale de Musique in Paris, France, studying with Claude Baker and Narcis Bonet. Rickelton received his master's degree in composition from the Peabody Conservatory at Johns Hopkins University in Baltimore. He is currently a DMA candidate at Peabody, where he is a student of Michael Hersch. An award-winning composer, Rickelton writes for a variety of ensembles. His choral, solo, chamber and orchestra works have been performed throughout the United States and abroad. Recently, his works have been played by the Nashville and Baltimore Symphony Orchestras and the Baltimore Choral Arts Society. In addition to his work as a composer, Rickelton remains active as a singer. He currently resides in Baltimore, MD with his wife Emily.
About "Pentecost," Rickelton writes, "Dana Gioia's work has become a great source of inspiration. His texts are engaging accounts of the human experience, expressing themes and emotions common to all. Gioia's 'Pentecost,' written after the death of his young son, is a gripping reflection on tragedy and loss. Gioia's words are often painful and difficult to process, but his text is filled with powerful imagery and pointed text that engages the reader. As in many of his works, Gioia's text lends itself to a musical pairing."
ABOUT JOHN ALEXANDER
Currently celebrating his fortieth season as Artistic Director and Conductor of Pacific Chorale, John Alexander is one of America's most respected choral conductors. His inspired leadership both on the podium and as an advocate for the advancement of the choral art has garnered national and international admiration and acclaim. In his long and distinguished career Alexander has conducted hundreds of choral and orchestral performances in 27 countries around the globe. Noted as a specialist in conducting the choral/orchestral masterworks, he is also a strong proponent of American music, programming groundbreaking works by California composers and bringing numerous West Coast and world premieres to Southern California performance halls. Choruses prepared by John Alexander have performed under many of the most renowned conductors on the world stage, including Esa-Pekka Salonen, Seiji Ozawa, Leonard Slatkin, Zubin Mehta, Pierre Boulez, Lukas Foss, Keith Lockhart, John Mauceri, Michael Tilson Thomas, Gustavo Dudamel, Carl St.Clair, Bramwell Tovey, Marin Alsop, John Williams, JoAnn Falletta, Sir Andrew Davis, Nicholas McGegan, Ivor Bolton, Ludwig Wicki, Gerard Schwarz and Max Rudolf.
ABOUT PACIFIC CHORALE'S JOHN ALEXANDER SINGERS
The John Alexander Singers, Pacific Chorale's professional chamber choir, is a 24-voice ensemble of outstanding choral musicians from throughout Southern California. While most of these singers also serve as part of the paid core to Pacific Chorale's 140-voice ensemble, their work with the John Alexander Singers focuses on specialized repertoire appropriate for a professional chamber chorus. Pacific Chorale regularly presents the John Alexander Singers in concert venues throughout Southern California. The Singers have collaborated extensively with Musica Angelica, Southern California's premier period instrument orchestra. Other notable collaborations include performances with the Los Angeles Philharmonic on their new music "Green Umbrella" series, and performances with the Kronos Quartet, Mark Morris Dance Company, The Royal Ballet of Covent Garden, Los Angeles Chamber Orchestra, Philharmonia Baroque Orchestra, the Corona del Mar Baroque Festival and Pacific Symphony. In July 2012, the John Alexander Singers will join Pacific Chorale for a four-concert festival tour to France, where they will present the Paris premiere of David Lang's Pulitzer Prize-winning "The Little Match Girl Passion."
###