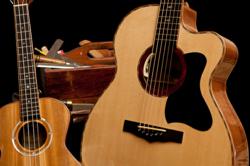 We've just received the custom koa ukulele and it is absolutely beautiful. Thank you for helping us to create an unforgettable gift!
- R and M Goldstein.
Tryon, NC (PRWEB) January 15, 2012
Custom guitar builder Jay Lichty crafts heirloom quality acoustic guitars and ukuleles. While he typically has a selection of instruments available for immediate sale, he specializes in custom acoustic guitars and ukuleles.
When someone receives a gift certificate from Lichty Guitars the first step is to discuss ideas with Jay about their dream guitar or ukulele. During the design process musicians can then see and hear examples of a wide variety of previously built custom acoustic guitars and custom ukuleles at the Lichty Guitars' website. The custom instrument that Jay then builds becomes the perfect fit in looks, feel and tone for the player.
The step-by-step process of giving a gift certificate for a Lichty handcrafted instrument can be found at Lichty Guitars' gift page.
About Lichty Guitars
Luthier Jay Lichty builds handmade acoustic guitars and ukuleles in Tryon, NC. He was the winner of the 2010 Made in the South Awards and has top performing artists playing his guitars from Australia to Japan to Nashville. He specializes in working with clients to build heirloom quality custom instruments. Learn more at http://www.lichtyguitars.com
# # #