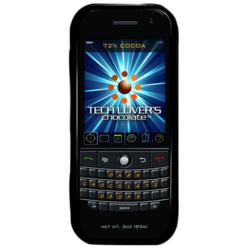 "Chocolate is well known to increase cognitive function so our product may actually help techies get their products to market faster," said Mike Litton, CEO, founder Bridge Brands Chocolate.
San Francisco, CA (PRWEB) January 15, 2012
Bridge Brands Chocolate™ http://www.bridgebrandschocolate.com, also known as The San Francisco Chocolate Factory™, has just released TECH LOVER'S CHOCOLATE™ complete with Smartphone inspired packaging.
This reusable Smartphone inspired-tin won't send a text or an email, but it will satisfy even the most high-tech chocolate craving! And considering all the health benefits of chocolate, foodies and techies will be smart just for consuming the contents. The TECH LOVER'S CHOCOLATE Tins are loaded with 3.0 oz of our gourmet 72% Dark Chocolate Drops. And best of all, it'll never need an upgrade or a recharge! (Until the chocolate inside is gone, of course!) Available in 8-Tin displays for retailers and single tins for consumers. These tins make a great gift for techies or for those who love their Smartphones as much as they love delicious, gourmet quality chocolate!
Bridge Brands Chocolate CEO Mike Litton thinks new TECH LOVER'S CHOCOLATE will appeal to smart workaholic types who are addicted to their work, Smartphones and chocolate. "Chocolate is well known to increase cognitive function so our product may actually help techies get their products to market faster because their staff will work smarter as they enjoy a high quality gourmet chocolate."
Chocolate is good for the brain. Dark chocolate contains several chemical compounds that have a positive effect on your mood and cognitive health. Chocolate contains Phenylethylamine (PEA), which stimulates the brain creates to release a beta endorphin peptide that has an analgesic effect and gives a feeling of well-being. Because PEA encourages the brain to release endorphins, eating dark chocolate makes people feel happier. Dark chocolate also contains caffeine, a mild stimulant. However, dark chocolate contains much less caffeine than coffee. A 1.5 ounce serving of dark chocolate contains 27 mg of caffeine, compared to the 200 mg found in an eight ounce cup of coffee. Look for Tech Lover's Chocolate at the 37th Winter Fancy Food Show in San Francisco January 15-18th 2012. Bridge Brands Chocolate's Booth is #206.
About Us
Bridge Brands Chocolate™ was created to provide chocolate lovers with gourmet-quality, superbly packaged chocolate at a non-gourmet price. Since debuting as The San Francisco Chocolate Factory in 1999, Bridge Brands Chocolate™ has become a favorite with chocolate lovers nationwide.
Why Bridge Brands?
One of the greatest bridges between two hearts is chocolate, so we've chosen Bridge Brands Chocolate™ as our new name. Chocolate is proven to be good for the heart and good for the soul—it creates a stir of passion and evokes love.
Known for our unique, custom packaged gourmet chocolates, Bridge Brands Chocolate's™ many different brands—now together under one great company—offer a chocolate opportunity for everyone.
From our Tea, Coffee and Wine Lover's Chocolates, to the souvenir Landmark Collection, the kid friendly got milk? chocolate series to our easy on-the-go Chocolate by Numbers and newest Say It With Chocolate series, you'll find gourmet chocolates perfect for every day and for special occasions. Give Bridge Brands Chocolate™ as a gift to each "special someone."
Bridge Brands Chocolate's™ sales have rapidly expanded beyond the shores of the Bay Area—thanks to the many visitors who bring the chocolate tins home as souvenirs.
Bridge Brands Chocolate™ is an active participant in the San Francisco Bay Area Community. We often provide donations of chocolate to worthy causes to help with fundraising efforts. A few of our most recent donations have gone to valuable community organizations like: City of Dreams, The UCSF Blood Center, The San Francisco Department of the Environment, The Hungry Owl Project, San Francisco Gay Pride, Support for Families with Disabilities, The Asian & Pacific Islander Wellness Center, Metropolitan Fresh Start House, The Bay Institute, The United Way, The San Francisco Sheriff's Department, and The California Film Institute.
Visit The San Francisco Chocolate Factory Boutique
The San Francisco Chocolate Factory Boutique, located in San Francisco's SOMA district, is a unique destination designed to fulfill all of your chocolate desires. The intimate atmosphere of the Boutique is a perfect backdrop for the exclusive products displayed on its shelves. The Boutique features the products made by Bridge Brands™ including our signature San Francisco Landmark tins, Wine Lover's and Coffee Lover's Collections, decadent Earthquake Cakes and their Fair Trade Certified line, GAIA Organic Chocolate, all offered at 10% off the already reasonable suggested retail prices. We also proudly offer a wide selection of scrumptious treats from the best local and international chocolatiers, including hand made toffees, truffles and specialty bars.
http://www.bridgebrandschocolate.com or join us on Facebook for more information.
Hours of operation: Monday – Friday 12-6:00 p.m.
Press Inquiries:
Contact:
Bridge Brands Chocolate PR
Sandra Evans
& Associates
Tel 415 887 9230
sandra(at)andassociates-ca(dot)com
Sales and Distribution Inquiries:
Contact:
Sales
Bridge Brands Chocolate
286 12th Street
San Francisco, CA 94131
Tel 888-732-4626
sales(at)sfchocolate(dot)com
http://www.bridgebrandschocolate.com
# # #