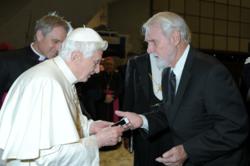 It has been my hope and prayer that by focusing on the Word of God with no commentary, our Bible recordings would be welcomed by all people
Vatican City (PRWEB) January 16, 2012
Faith Comes By Hearing (FCBH), the world's largest Audio Bible ministry, recently released their newly completed Latin New Testament recording. The project was initiated at the request of Father Peter Stravinskas. He saw the opportunity to act on Sacramentum Caritatis issued by Pope Benedict XVI in 2007, which asks that "future priests, from their time in the seminary, receive the preparation needed to understand and to celebrate Mass in Latin, and also to use Latin texts and execute Gregorian chant."
While the recording was taking place last year – with Father Stravinskas and other priests performing select passages in Gregorian chant – FCBH was also developing a Latin version of their popular Bible.is app. The two projects came to fruition at the end of 2011 and the ecumenical missions organization's founder and president, Jerry Jackson, was honored with the opportunity to present the Pope with an iPod Touch loaded with the Latin Neo-Vulgate recording and the Latin Bible app – Biblium.is. The presentation was made at the Papal Audience on January 11th.
"It has been my hope and prayer that by focusing on the Word of God with no commentary, our Bible recordings would be welcomed by all people," said Jackson. "This recording of the Latin Neo-Vulgate, and being welcomed to present it to Pope Benedict XVI, is a wonderful fulfillment of 30 years of prayer and commitment to the Bible and God's people."
Faith Comes By Hearing's mission is to record and provide the Word of God in an audio format for every people group and language, with a particular focus on the poor and illiterate population throughout the world. They currently have Audio New Testaments in 618 languages, which combined are spoken by more than 5 billion people across the planet.
Free access to these recordings is provided through downloads and streaming on their website, podcasts in the iTunes store, or via the previously mentioned Bible.is apps that are available for iPhone, iPad, iPod Touch and mobile devices using the Android operating system.
In areas where smartphone technology and Internet access are not readily available, FCBH continues to provide God's Word on the solar-powered digital device known as the Proclaimer. More than 300,000 units are now proclaiming the Word of God around the globe.
Established in 1972, Faith Comes By Hearing is celebrating 40 years of ministry throughout 2012.
###