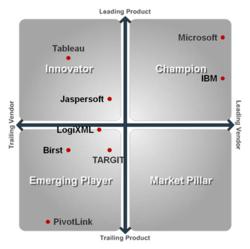 BI is no longer just for the big boys. The era of BI for the masses has dawned.
London. ON (PRWEB) January 16, 2012
Info-Tech Research Group's recently released Vendor Landscape reports for Mid-Market and Large Enterprise Business Intelligence (BI) solutions highlight the emergence of "BI for the masses." New innovations have reduced the previous need for heavy investment in infrastructure and personnel, opening up the market for smaller-sized businesses to take advantage of the insight a BI solution can provide.
"As solutions have matured, the manual component of analyzing and reporting on data has been drastically reduced, enabling business-users more freedom to create and manipulate reports for their own purposes without relying on IT for programming expertise," said Barry Cousins, Senior Research Analyst, Info-Tech Research Group. "In addition, new cloud-based BI solutions are being delivered in a software-as-a-service model. These products offer flexible and scalable solutions for organizations that would traditionally be prevented from deploying a dedicated BI platform due to infrastructure limitations. Thanks to these changes, BI is no longer just for the big boys. The era of BI for the masses has dawned."
Microsoft Business Intelligence dominates the BI space in both the enterprise and mid-market with an established product that is integrated with business suite tools many organizations already use (SQL, SharePoint and Office). This significantly shortens the BI learning curve as many employees are already familiar with these tools.
IBM has solidified itself as a leader in the BI market over the last four years creating products that are considered ahead of the market by Info-Tech Research Group. According to the research, IBM's Cognos product excels in master data management, collaboration and predictive modeling in comparison to other vendors in the enterprise space. Cognos Express, IBM's mid-market offering, contains strong data management components ensuring high data quality, matching data sets and single source of truth.
According to Info-Tech Research Group, SAS leads the enterprise BI market with its analytics power and exceeds all other vendors in its overall capabilities. SAS does not yet market a product for mid-sized organizations, but is the obvious choice for large organizations focused on decision-driving analytics.
An innovator to watch in the mid-market space is Tableau according to the mid-market report. Tableau's graphical interface is one of the best in the market, but some mid-sized businesses may find its full solution a bit pricey.
For the full list of Info-Tech Research Group's recommendations for selecting an Enterprise or Mid-Market BI vendor visit: http://www.infotech.com/research/ss/it-vendor-landscape-plus-enterprise-bi-suites or http://www.infotech.com/research/ss/vendor-landscape-mid-market-bi-suites
Info-Tech Research Group Vendor Landscape reports recognize outstanding vendors in the technology marketplace. Assessing vendors by the strength of their offering and their strategy for the enterprise, Info-Tech Research Group Vendor Landscapes pay tribute to the contribution of exceptional vendors in a particular category.
About Info-Tech Research Group
With a paid membership of over 25,000 members worldwide, Info-Tech Research Group (http://www.infotech.com) is the global leader in providing tactical, practical Information Technology research and analysis. Info-Tech Research Group has a fourteen-year history of delivering quality research and is North America's fastest growing full-service IT analyst firm.
###