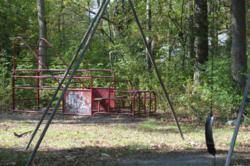 Monett, MO USA (PRWEB) January 17, 2012
Miracle Recreation is pleased to announce the winner of their "NEW PLAYGROUND GIVEAWAY" is Kennedy Elementary in Brockton, Massachusetts. Kennedy Elementary is located just south of Boston, MA and is home to over 600 students, ranging from kindergarten to fifth grade.
Kennedy was in need of a new, improved playground to replace their old, metal slides and swings that have been in place since the 1960s, which no longer comply with current safety standards.
"Our kids really haven't been able to utilize the playground equipment in a long time. In Brockton, many other schools in our district have built new facilities and new playgrounds. We felt it was time the kids at Kennedy had a new playground, and we knew the only way to get it done was to raise the funds ourselves, "explains Jennifer Giannaros, teacher at Kennedy Elementary.
After doing some research on playground equipment, Jennifer came across Miracle Recreation's Playground Giveaway. After gaining approval from the school principal and garnering support for the cause, Kennedy Elementary entered to win.
Ms. Giannaros explained, "We had a ton of support from our community, from the parents to the entire school district. Our new playground wouldn't have become a reality without them."
Kennedy Elementary reached out to everyone they could by sending out notices to parents, the school district, and city-wide internet sites. By the end of the voting process, Kennedy was at the top of the photo contest votes and after submitting a heartfelt video from their students and staff, they were chosen as the winners of Miracle's $25,000 playground.
"We are very excited for our new playground and hope to have it installed by April of this year. It will be used not only by the school but our entire community. For some of these children, this will be the first real playground they have ever experienced", adds Ms. Giannaros.
For more information on Kennedy Elementary and to view their contest video visit http://www.miracle-recreation.com/playground-giveaway-winner.html.
About Miracle
With over 80 years of experience, Miracle is one of the largest manufacturers of commercial outdoor playgrounds and recreational equipment in the U.S. Based in Monett, Missouri, the company offers its customers innovative, made to order products at affordable prices, while maintaining the highest levels of quality and safety. Miracle's products provide children with exciting and safe places to play, physical exercise, social integration, confidence, self-esteem and improved motor skills. The company has 400 employees, over 100 domestic sales consultants, and 40 international distributors.
Miracle Recreation is a division of PlayPower, Inc., which is the global leader in recreation equipment and accessories, with more than 1,100 employees worldwide. More information is available at http://www.miracle-recreation.com.
For more information contact Don Hemingway at 704-949-1619 or don(dot)hemingway(at)playpower(dot)com
###