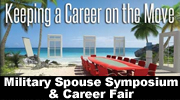 Military spouses are talented, engaged members of their communities, with distinct skills that can bring positive impacts to any workplace.
Alexandria, VA (PRWEB) January 20, 2012
Military spouses, service members and veterans are invited to attend the free military Spouse Symposium & Career Fair 2012 "Keeping a Career on the Move," co hosted by the Military Officers Association of America (MOAA) and Blue Star Families from 9 a.m. to 4 p.m. on Thursday, January 26 at the San Diego Convention Center. The Symposium's signature sponsor is TriWest Healthcare Alliance and is held in conjunction with West 2012. The event is also supported by USAA and GovX.
Spouses and veterans who are looking for a job or preparing for a future career will have an opportunity to attend career-development seminars, receive onsite résumé critiques, meet expert panelists and more than 50 employers from regional and national companies.
"We are proud to partner with the Blue Star Families, and have designed a day to inspire and empower military spouses wherever they may be in their career ambitions," Vice Adm. Norb Ryan, Jr., USN-Ret., president of MOAA said. "I want to thank our signature sponsor TriWest Healthcare Alliance for making this special event possible, and our event partners at West 2012, AFCEA and the US Naval Institute," he continued.
"Blue Star Families and MOAA have a long history of working together successfully, through MOAA's Spouse Council and Blue Star Families' annual survey of military families," Mark Smith, executive director of Blue Star Families said. "Partnering with MOAA for this Spouse Symposium is a natural next step and we are excited to be teamed up with MOAA to help military spouses acquire the skills and knowledge they need to successfully navigate today's job market."
"Military spouses are talented, engaged members of their communities, with distinct skills that can bring positive impacts to any workplace," David J. McIntyre, Jr., President and CEO of TriWest Healthcare Alliance said. "As a company, TriWest takes tremendous pride in having military spouses on our team —and we challenge other businesses to add military spouses to your own organizations."
Lea Sutton, military reporter for NBC 7 San Diego News and former navy fighter pilot who flew F/A-18's in Iraq and Afghanistan, will serve as the MC for the event. The symposium will kick off with a panel of employers from Society for Human Resource Management (SHRM), Facebook and others, entitled "Five Things Employers Want You to Know."
A workshop entitled, "Build your Brand: Your Dependable Strengths," will allow attendees to go through a unique process to uncover what they love and do best by looking at every aspect of their lives – from volunteering, to parenting, to hobbies, to jobs.
At lunch, former Good Morning America host, David Hartman will interview 2011 Medal of Honor recipient SFC Leroy Petry about his experiences.
At 1 p.m., following lunch, the Career Fair opens so military spouses, transitioning service members and veterans may attend seminars and meet with more than 50 participating employers, including: SHRM, Microsoft, Troopswap, Zeiders Enterprises and the San Diego Sheriff's Department.
To register and for more information about the Spouse Symposium and Career Fair, please visit http://www.moaa.org/spousesymposium/. The final day for online registration is Monday, Jan. 23.
About MOAA:
Military Officers Association of America (MOAA) is the nation's largest officers association with 370,000 members from every branch of service, including active duty, retired, National Guard, Reserve, and former officers and their families and survivors. MOAA is a nonprofit and politically nonpartisan organization and an influential force in promoting a strong national defense. MOAA represents the interests of service members and their families in every stage of their lives and careers, and for those who are not eligible to join MOAA, Voices for America's Troops is a nonprofit MOAA affiliate that supports a strong national defense. For more information, visit http://www.moaa.org
###