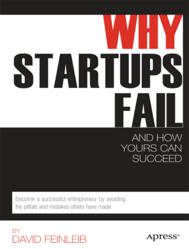 New York, NY (PRWEB) January 13, 2012
Startling statistic: Eight out of ten new businesses fail within the first three years. Compelling statistics prove that serious entrepreneurs can do everything right and still walk their venture towards a "doomsday" scenario. In Why Startups Fail: And How Yours Can Succeed—the latest release from Apress Media—author David Feinleib not only identifies the pitfalls and the key mistakes new ventures make but also tells others how to avoid a similar fate.
Our author—a serial entrepreneur, former venture capitalist and investor—notes that entrepreneurs often try to learn from successes like Apple, Google, and Facebook. "But the biggest lessons," Feinleib says, "can come from failure. What decisions were made, and why? What would the founders have done differently? How did one company become a billion-dollar success while another—with a better product and in the same market—fail?" Drawing on his personal experiences with successful startups as well as the wisdom of the Silicon Valley entrepreneurial community, Feinleib, a well known blogger known as "VC Dave" (http://www.vcdave.com) touches on such topics as: how to find "product-market fit"; how to pitch investors, raise money, and recruit; how to build world-class products that people will use; how to "pivot" when necessary; and how to price products and services.
Why Startups Fail: And How Yours Can Succeed analyzes the differences between companies that collapse and those that seize the market with a bang. It is of utmost appeal to venture-backed technology entrepreneurs, as well as boot-strappers and those who have been able to survive their first three or four years in the market but are just starting to hit speed-bumps.
ISBN13: 978-1-4302-4140-9
196 Pages
User Level: Beginner to Advanced
Publication Date: January 4, 2012
Available eBook Formats: EPUB, MOBI, PDF
About the Author
David Feinleib is an investor, adviser, and serial entrepreneur. As an entrepreneur and venture investor, he has been responsible for investments totaling more than $100 million. Feinleib later joined Microsoft, and went on to start four companies that were acquired by Hewlett-Packard and Keynote Systems. Feinleib holds a master's in business administration from the Stanford Graduate School of Business and a bachelor's degree from Cornell University, where he was a Kodak Scholar.
About Apress Media
Apress Media LLC is a technical and business publisher devoted to meeting the needs of IT professionals, software developers, programmers, and business leaders with more than 1,000 books in print and electronic formats. Apress provides high-quality, no-fluff content that helps serious technology professionals build a comprehensive pathway to career success.
# # #