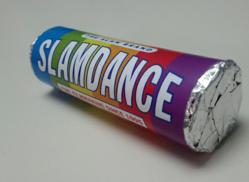 Every independent filmmaker should know and use InkHead, and we at Slamdance are thrilled to help make that connection.
Atlanta, GA (PRWEB) January 15, 2012
InkHead Promotional Products is proud to announce its sponsorship of the 18th annual Slamdance Film Festival, a seven-day showcase of new and merging independent artists, filmmakers and storytellers. Over the last 18 years, Slamdance has become a year-round organization fostering the development of unique and innovative filmmakers. The organization now consists of the Film Festival, Screenplay and Teleplay Competition and Slamdance Studios.
As a Friend of the Festival, InkHead will be providing specially designed co-branded custom lanyards for the event. The company has also made private-label LifeSaver-style custom candies inspired by this year's festival poster, which will be included in guest gift bags. The sponsorship comes on the heels of a busy 2011 for InkHead Promotional Products, which also sponsored local soccer team the Atlanta Silverbacks in addition to providing promotional materials for the Georgia Chapter of the Leukemia and Lymphoma Society.
"InkHead has become an integral part of our marketing efforts, and the company is helping us go the extra mile to make the 2012 Slamdance Film Festival exceptional," says Kelly Calligan, Slamdance's Sponsorship and Marketing Manager, "Marketing and promotion is a critical part of a film's success, and this is where the dedicated team at InkHead excels. Every independent filmmaker should know and use InkHead, and we at Slamdance are thrilled to help make that connection."
ABOUT INKHEAD PROMOTIONAL PRODUCTS
Atlanta-based InkHead Promotional Products is an online distributor of custom promotional products and corporate apparel, whose catalog of customizable items ranges from custom coffee mugs to personalized tote bags. Some of InkHead.com's customers include Fortune 500 firms, single-owner businesses, private-event organizers, government agencies, churches and other religious groups, non-profit organizations and charities, the military, educational institutions and other citizen groups.
ABOUT SLAMDANCE
Slamdance serves as a showcase for the discovery of new and emerging talent and is dedicated to the nurturing and development of new independent artists and their cinematic vision. The Slamdance 2012 Film Festival will run concurrently with the Sundance Film Festival, January 20-26, in Park City, Utah. Slamdance continues to live by its mantra: "By Filmmakers, For Filmmakers." No other festival is fully programmed by filmmakers. Slamdance is proud to count among its alumni many notable writers and directors who first gained notice at the festival, including such cinematic luminaries as Christopher Nolan, Marc Forster, Jared Hess and Oren Peli. New filmmakers and writers today realize that Slamdance is a place to launch their careers. Additional information about the Slamdance Film Festival is available at http://www.slamdance.com.
###