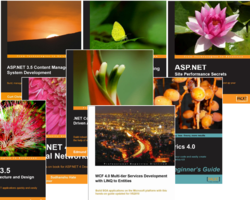 UK (PRWEB) January 14, 2012
Birmingham: The .NET Framework's stack of tools and its flexibility has made it a developer's best friend, and Packt Publishing - one of the world's leading publishers of Microsoft focused technology books and eBooks - is pleased to announce that all its .NET and ASP.NET books can be found on Amazon's Kindle platform. Titles include: WCF 4.0 Multi-tier Services Development with LINQ to Entities, ASP.NET Site Performance Secrets, .NET Compact Framework 3.5 Data Driven Applications, and more.
Amazon's Kindle platform has established itself as the leading ebook reading and distribution channel recently, and Packt is pleased to announce that its wide range of .NET framework focused titles can now be found there. Over the years, Packt has published a significant number of .NET focused books, including titles such as:
WCF 4.0 Multi-tier Services Development with LINQ to Entities. WCF is the Microsoft model for building services, whereas LINQ to Entities is the Microsoft ORM for accessing underlying data storage. Mastery of these two topics will quickly enable developers to create Service-Oriented Applications, and enter the world of Service Oriented Architecture without becoming overwhelmed. This book is the quickest and easiest way to learn WCF and LINQ to Entities in Visual Studio 2010. Through this book, the readers will learn what's going on behind the scenes with WCF, and dive into the basic yet most useful techniques for LINQ to Entities.
Amazon Web Services: Migrating your .NET Enterprise Application. Amazon Web Services is an Infrastructure as a Service (IaaS) platform in the Cloud and provides the enterprise with the flexibility to choose different solutions, ultimately reducing costs by utilising pay-as-you-go pricing. This step-by-step guide illustrates how to move an Enterprise .NET application to Amazon and covers business strategy and in-depth implementations. It includes details involved in moving an application to Amazon and discusses how to map requirements against the Amazon Cloud, as well as securing and enhancing application with AWS.
Other titles available on Kindle include:

Microsoft Windows Workflow Foundation 4.0 Cookbook
ASP.NET 3.5 Application Architecture and Design
ASP.NET 3.5 Social Networking
ASP.NET 4 Social Networking
ASP.NET Site Performance Secrets
ASP.NET jQuery Cookbook
ASP.NET 3.5 CMS Development
ASP.NET MVC 2 Cookbook
.NET Compact Framework 3.5 Data Driven Applications
New titles.
In early 2012, Packt is due to publish two further titles: Entity Framework 4.1: Expert's Cookbook and a .NET Generics 4.0 Beginner's Guide. The .NET Generics 4.0 Beginner's Guide book discusses everything developers need to start writing type-safe applications with generic data structures available in Generics API. It is full of practical examples, and teaches best practices and several patterns. This book includes the generic algorithm definitions present in Power Collection but which are missing from the .NET framework. Some very interesting problems are solved using generic containers from .NET framework, C5, and PowerCollection Algorithms–a clone of Google Set and Gender Genie for example. Both of these books will be available on Kindle upon publication.
Updates about Packt's Microsoft books can be found on Twitter at: @PacktEnterprise
###