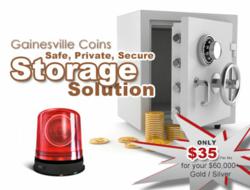 Gainesville Coins now offers 100 percent segregated storage
Lutz, Florida (PRWEB) January 13, 2012
The last decade has seen a marked increase in the demand for precious metals as investors diversify their investment portfolios and seek a hedge against inflation, deflation, and global political instability. Unfortunately, this growth in demand has not been accompanied by a comparable increase in precious metal storage options. Gainesville Coins Storage seeks to revolutionize precious metals storage by providing:
1. Full Segregation of Assets
2. Comprehensive Insurance
3. Ease of Access
4. Instant Liquidity
Gainesville Coins Storage provides investors all of these benefits within an industry leading cost structure.
Fully Segregated Assets
Choosing how to store precious metals remains one of the most important considerations for precious metal investors. Many storage options available today do not offer full segregation of client assets, but rather offer what is known as allocated storage. Under allocated storage, similar bars and coins will be pooled. Clients of such a scheme will be at risk that the pooled assets will not be correctly accounted for. For instance, when MF Global went bankrupt in 2011, not only did $1.3 billion of client assets go missing, but there were multiple instances where ownership of gold and silver assets was in dispute. Furthermore, under allocated storage a client that wishes to take possession of their gold and silver will not receive the exact bars and coins that were initially deposited.
With full segregation of client assets at Gainesville Coins Storage, clients can rest assured that the assets stored will be exactly what they receive upon delivery. Furthermore, unlike many vault and depository options, Gainesville Coins Storage is wholly separate from the financial system.
Comprehensive Insurance
Currently, many investors in physical gold and silver choose home storage or a safety deposit box at their local bank. The level of insurance coverage provided by Gainesville Coins Storage provides a level of protection unmatched by either. With Gainesville Storage, you are fully protected against physical loss, damage, and theft.
Ease of Access
Having access to gold and silver is fast and easy with Gainesville Coins Storage. Upon written notification, a client can have his precious metals available for pick-up at our showroom during normal business hours in one hour, or have them shipped to you that same day. Most, if not all other vaults and depositories cannot match this level of access.
Instant Liquidity
With just a phone call, you can liquidate or add to your gold and silver holdings held in Gainesville Storage. Cash raised by selling precious metals can be held on account, mailed via a business check, or wired to an account. The ease with which your assets can be sold, and the flexibility this provides precious metals investors cannot be matched by most vaults and depositories.
Unlike many other precious metal dealers, Gainesville Coins does not charge any commission.
Gainesville Storage is a Powerful Alternative for ETFs
Gainesville Storage affords precious metals investors all the benefits of buying physical gold and silver, without many of the perceived drawbacks that have made precious metal ETFs so popular. By using Gainesville Storage, precious metal investors have a comparable level of liquidity, the satisfaction of owning physical gold and silver, but without the risks of allocated storage, and the clear ties ETF inventories have to the broader financial system.
Low Cost
Cost of storage is an important consideration, and Gainesville Coins Storage provides industry leading prices. Storage fees are as low as $60 per annum, or $5 per month, for assets under $9,200. Precious metals storage fees for assets above $9,200 will range from 65 basis points to 42 basis points per annum depending on amount stored.
Evaluate Gainesville Coins Storage
Precious metal investors are encouraged to go to Gainesvillecoins.com, and review Gainesville Coins Storage. We are confident that when you evaluate the many storage options available today, Gainesville Coins Storage will stand above the rest in providing a level of benefits unmatched by any alternative.
http://www.gainesvillecoins.com/secure-storage.aspx
Contact
David Kim
813-482-9300, ext. 332
###