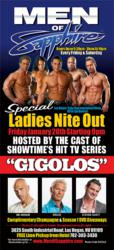 Meet Members of the Cast of Gigolos from Showtime's Hit Television Series and Stay for the Men of Sapphire Male Review!
Las Vegas, Nevada (PRWEB) January 19, 2012
Sapphire, The World's Largest Gentlemen's Club, announces that Men of Sapphire male review, your "Bachelorette Party Headquarters" in sin city, is throwing a party for all ladies on Friday, January 20th beginning at 9pm hosted by Vin, Brace and Steven, cast members of Showtime's hit series GIGOLOS.
This is a chance for fans to meet and get autographs and photographs from members of the cast of GIGOLOS, the hit television show in which Showtime follows five real guys earning their living as high-end male escorts in Las Vegas. Adrenaline junkie Jimmy, single dad Steven, gym rat Nick, veteran Brace and newcomer Vin find themselves in some unexpected positions as they balance relationships, friendships and family with the demands of their all-female clientele.
GIGOLOS Season 1 was released on DVD in October and the entertainers will be giving away copies to lucky ladies throughout the night. After the meet and greet ladies will enjoy complimentary champagne and an evening with a roomful of incredibly hot guys with bodies like Gerard Butler in "300" who are there exclusively to please.
The Men of Sapphire have quite an evening planned in their ladies-only showroom. Ladies will be escorted in by their host and each group will be photographed with a few of the men to document the occasion before being led to plush VIP seating. Leave all inhibitions at the door and enjoy a favorite cocktail or a bottle of champagne.
Ladies, looking for a party with so much more than the usual male strippers, then this is the place to be. The evening will include a variety of international accents and hard bodies providing choreographed stage performances as well as personal one on one entertainment. Enjoy the male eye candy as each performer takes his turn on stage. Expect a lot of crowd interaction because ladies will be encouraged to not only see the show but to be the show as they get called up on stage for an impromptu up-close-and-personal performance.
Dreams of an up close encounter with beautiful strong men come true at Men of Sapphire. Submit a piece of paper to the DJ volunteering the bachelorette or birthday girl in their party for a stage dance or a private dance for a little extra cash and memorable entertainment. Ladies are also encouraged to crowd around the stage where a guy will give you a little extra attention — for a dollar.
When Men of Sapphire concludes, do not expect to be notified. The show rolls right into nonstop private lap dances by the performers, stage dances and plenty of men walking around. And ladies, these boys can go all night long ....
If celebrating a birthday, a bachelorette party or just want to have some naughty fun, grab the girls and head to Men of Sapphire because Friday, January 20th is going to be special.
Experience the World's Best Bachelorette Party at the World's Largest Gentlemen's Club at Sapphire, located at 3025 S. Industrial Road in Las Vegas, with 70,000 square feet of topless entertainment. Get to the club early or reserve your table today. Open 24/7, 365 days a year to patrons 21 and over, Sapphire serves the finest variety of cocktails, wines, champagne and cigars.
Men of Sapphire shows are Friday and Saturday evenings only, door open at 9:30pm. Show time is 10pm to 2am. Our VIP Packages make it easy and affordable and our VIP Hosts handle all the details. All packages include complimentary, luxury transportation for your entire party to Sapphire from the Strip hotels. Packages can be purchased online at http://www.MenOfSapphire.com. For more information call 702-869-0003. And for special offers and updates follow Sapphire LV on twitter @sapphirelv.
###