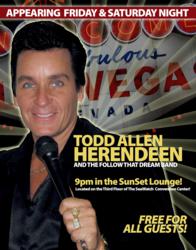 "Written by Kurt Orning, the song is a powerful patriotic anthem that speaks to the heart of America"
Panama City Beach, Florida (PRWEB) January 16, 2012
The Holiday Inn Resort has always prided ourselves in providing great entertainment, but this year the resort is excited to announce that one of their own has been able to reach new heights in his career! Todd Allen Herendeen is climbing the Music Charts with his first radio release, "My Name Is America," which is now the number one independent country sound in America!
Many have seen the Musical Artist, Singer/Entertainer Todd Allen Herendeen in Panama City Beach at the Holiday Inn Resort and Gulf World Marine Park during the summertime over the last few years, as well as at our New Year's Eve Party. Recently, he had his first World Radio Release with the song "My Name is America," on the Straight Arrow label. "Written by Kurt Orning, the song is a powerful patriotic anthem that speaks to the heart of America" says Herendeen. "Proof of how well it is speaking is the fact that it has climbed to number 1 on the Indie World Country Chart." As well as the Indie World Chart, "My Name is America" has broken into some other charts as well, including the majors! As of January 6, 2012 it sits at number 31on the New Music Weekly chart, 21 on the New Music Weekly Indie Chart and number 179 on the Music Row Chart. It is being added to the playlists of Top 40 charting stations also, which is big exposure. To download the song and learn more about it or Todd Allen Herendeen people can visit http://www.mynameisamerica.us and http://www.toddallenherendeen.com.
Todd will start entertaining resort guests once again starting May 13th and will be preforming a couple nights a week all summer long! Check out all the great specials the Holiday Inn Resort has to offer at http://www.hipcbeach.com and make sure to see Todd's 2012 show.
###