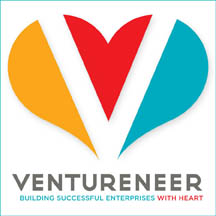 Best of all, this will be a win-win. Small businesses will get the resources they need to grow; corporations will get the customers they need.
New York, NY (PRWEB) January 17, 2012
There are 27.5 million small businesses, including 1.5 million nonprofits. How can a corporation reach this market in an engaging and compelling way without getting lost in the tidal wave of advertising messages?
The answer: Provide useful information for small businesses and nonprofits that helps them grow. It will get their attention, generate leads and build customer loyalty.
Long a resource for small businesses, Ventureneer has launched services for corporations that want to tap the small business/nonprofit market. The services will create relevant and compelling content focused on the business needs of small businesses and nonprofits.
"Best of all, this will be a win-win. Small businesses will get the resources they need to grow; corporations will get the customers they need," said Geri Stengel, founder of Ventureneer.
Recent research fielded by Ventureneer shows that small businesses and nonprofits are missing marketing opportunities that could help them grow, largely because they lack training. By filling this gap, corporations will help small businesses grow and earn their loyalty as customers for years to come.
Ventureneer will provide strategic planning, content creation and distribution, and measurement for the corporations while ensuring that small businesses get practical, useful resources that are associated with corporate brands. Services will include:
•market research
•insights and resources for small businesses, such as how-tos and case studies
•content for inbound marketing and lead generation
•in-person and online training
•social media outreach (Geri is one of the Top 50 Women Entrepreneur Experts to Follow on Twitter.)
•advertising on social networks
•newsworthy products, events, and training that generate press coverage
Ventureneer's founder, Geri Stengel is former adjunct professor of entrepreneurship at The New School, a Kauffman FastTrac GrowthVenture facilitator, and past board member of the New York City Chapter of the National Association of Women Business Owners, and a serial entrepreneur.
A graduate of the corporate world, Geri learned market research by doing it at The Wall Street Journal. As an entrepreneur, she understands the issues small business face and knows what will resonate with them.
About Ventureneer
Ventureneer connects values-driven small business owners, social entrepreneurs, and nonprofit leaders with the knowledge they need to make the world a better place and to thrive as businesses. At Ventureneer, entrepreneurial and nonprofit training and advice are practical, accessible, and affordable. Ventureneer blends traditional, formal instruction with informal, peer learning. You can learn new skills, collaborate with peers, develop solutions to your real-world problems, get one-on-one help from experts, and access the information you need to make better decisions for your organizations.
###