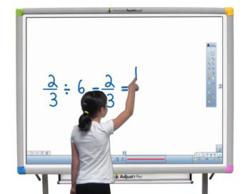 With Touch Board, we're providing schools with a quality, affordable option for incorporating interactive technology into education - Rich Fennessy, CEO of eInstruction.
Scottsdale, AZ (PRWEB) January 16, 2012
Global education software and technology company, eInstruction Corporation, today unveiled its new Touch Board™ interactive whiteboard. Touch Board™, which has a pen-and-finger controlled surface, provides students with a hands-on, collaborative learning experience in the classroom. The new interactive whiteboard also supports multi-touch gestures, enabling users to manipulate images with a simple touch, enhancing interactivity with lesson content.
Touch Board™ works in tandem with eInstruction's award-winning Workspace™ software, which allows teachers to draw, insert images, highlight, interact with and annotate over educational content. Workspace's open architecture also enables users to incorporate and work with material in multiple formats from any source, including ExamView® content and question banks, web-based content and third-party curriculum, eliminating worries about any importing or compatibility issues.
Touch Board's surface is also a dry-erase surface designed to withstand the rigors of a typical classroom, and the board's technology provides high accuracy in writing and annotation.
"We know that educators seek software versatility and physical durability in an interactive whiteboard, both of which are key features of the new Touch Board," said Rich Fennessy, CEO of eInstruction. "With Touch Board, we're providing schools with a quality, affordable option for incorporating interactive technology into education."
Touch Board™ works seamlessly with eInstruction's Mobi™ family of mobile interactive whiteboards, which foster a student-centered learning experience. It is touch-enabled with Windows, Mac OS and Linux, and multi-touch enabled with Windows 7. eInstruction will also begin offering Adjustit™ Pro Stand in early 2012, an adjustable and mobile stand for interactive whiteboards that is compatible with a wide range of short throw and ultra short throw projectors.
Touch Board™ is available through eInstruction Authorized Resellers and Sales Representatives in the U.S. and worldwide, starting at $1,126 USD for a 78" board.
About eInstruction®
eInstruction is a leading education technology company dedicated to providing interactive teaching and learning technology and services that help educators drive academic progress every day, and give administrators the ability to monitor, aggregate, and analyze student performance data. The company offers educators a family of software, student response systems, fixed interactive whiteboards, mobile interactive whiteboards, professional development, and content.
eInstruction's research‐based solutions have been shown to increase student engagement and achievement while providing real‐time feedback and performance data to educators and administrators. Millions of students, teachers, and professors use eInstruction® technology in 600,000 K‐12 classrooms and more than 500 higher education institutions around the world. Available in more than 40 languages, eInstruction® technology is enhancing education in over 90 countries worldwide.
eInstruction has its global headquarters in Scottsdale, AZ and remote offices in Denton, TX; Cincinnati, OH; and Paris, France.
To learn more about eInstruction, please visit http://www.einstruction.com. For media inquiries, please contact Tiffani Nichols at (480) 443-2255 or Tiffani.Nichols(at)einstruction(dot)com.
# # #