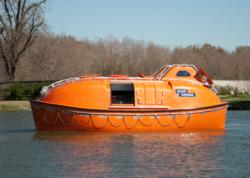 "The key feature on this new boat is its hooks and release technology, which are the latest industry design."
Lafayette, LA (PRWEB) January 18, 2012
FOR IMMEDIATE RELEASE
18 Jan 2012
Lifeboatman training with the new MCB24 Lifeboat is under way at Safety Management Systems' Training Center. The Lifeboat, designed by Schat Harding, is totally enclosed and seats a maximum of 50 people.
"The key feature on this new boat is its hooks and release technology, which are the latest industry design," SMS training coordinator Chris Grossie said. "The lock is automatic so there is no danger of the D-ring falling out and causing injury, as with the old manual locking mechanism."
The SeaCure LHR hook features full-duplex stainless steel components and a locking shaft with a closed to open rotation of 45 degrees. Additionally, this hook's fail-safe features include stability and full closure under any conditions, including wear and tear, weight and forces from the hook load.
SMS's Proficiency in Survival Craft course, approved by the U.S. Coast Guard for STCW-95 (Lifeboatman) Endorsement, is offered every other week with no class enrollment minimum. The four-day course costs $749, which includes breakfast and lunch. SMS also can provide flexible course dates and specialty courses upon request, pending instructor availability.
Safety Management Systems is an Acadian company and one of the nation's largest providers of health, safety, environmental, medical and training services.
Please visit safetyms.com for future updates on class information and videos.
###