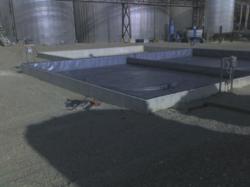 Having an installer who was familiar with their other equipment and processes made it easy to cooperate on the liner installation too
Claremore, OK (PRWEB) January 24, 2012
As part of the renovation of a newly acquired facility, the energy company had to remove the remnants of the old acid containment area, perform soil remediation, and pour a new containment pit. For protection, they determined that cheaper, thin gauge coatings and materials could not give them the long term, reliable corrosion protection that a Witt Lining Systems product could. Due to the likelihood of future cracking in the concrete they preferred the fact that a custom fitted but un-bonded liner would not be affected by developing cracks. Alternative coatings also have the risk of failure due to coatings coming loose from the concrete as a result of groundwater from the back side – especially in the sumps, which are likely to have any spilled acid in them from leaky pumps, hoses, or valves.
For the containment areas the company contacted Melvin Stein of Stein Industries. Stein designed a dual containment area for each acid tank complete with a tank pad and collection sump in one end. For each area, the Witt liner was made in one complete piece including the sump area. This allowed the liner to be installed quickly, and without even waiting for the concrete to fully cure. "Flexible liners are the fastest and most effective way to line concrete areas" said Stein, an installer with over 20 years in the lining and coating industry. "As an installer, I was also able to assist the customer with details of how to secure their tanks, anchor pumps, electrical, and piping. Having an installer who was familiar with their other equipment and processes made it easy to cooperate on the liner installation too" added Stein.
As soon as the liner was installed, tanks, pumps and other equipment could immediately be put into place. Where the energy company would have been waiting 30-45 days for curing time with the concrete and an applied coating, the flexible PVC liner allowed them to use that time to complete the tank and equipment erection, and be ready to operate as soon as the concrete reached full cure.
The energy company is now running with a containment system that will provide years of reliable low maintenance service.
Witt Lining Systems is located in Claremore, OK. The company manufactures flexible PVC liners used for corrosion resistance in process tanks, storage tanks, vats, sumps, pits, and containment areas. PVC brands include Spectra Blue, Exceline and Koroseal PVC along with NSF-61 PVC and Teflon liners. For more information contact 1-800-323-3335 or visit http://www.wittliners.com
Stein Industries is a custom designer, fabricator, and installer of plastic tanks, custom equipment, and Witt Linings' factory installer in industrial and commercial applications. The company is located in Bryant, IN. For more information contact 1-260-997-6700 or visit http://www.steinindustries.com.
# # #