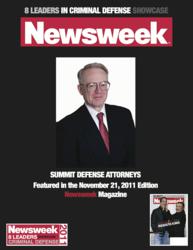 San Jose, CA (PRWEB) January 17, 2012
Recently, Summit Defense attorney James Reilly was featured in Newsweek, a national magazine, naming him as one of the top eight criminal attorneys in the US. This report, published in the November 2011 edition, showcased eight attorneys who were named "Leaders in Criminal Defense."
When asked about this honor, the San Jose criminal attorney said, "There are many excellent criminal defense attorneys in this country, and being named among the elite is a true honor."
Criminal attorney Reilly also said, "This honor is a tribute to the amazing team I work with at Summit Defense Attorneys. We all take pride in the work we do and the results we've achieved for our clients."
Prior to attending law school, James Reilly was an award winning Lieutenant in the United States Navy. He was an honors graduate at West Point and graduated cum laude from Pepperdine Law School where he was president of the student body. He began his law career as a prosecutor, and rose through the ranks to become a supervising District Attorney where he mentored young DAs.
Twenty years ago, Jim transitioned to become a criminal defense attorney and has since handled over 100 jury trials and 40 District Court appeals. Today Mr. Reilly leads a team of highly qualified and successful criminal defense attorneys to provide the best possible representation.
"At Summit Defense," stated Reilly, "we take a team approach, ensuring that each client gets the full expertise of the firm."
Attorney Reilly and his team are pleased that Newsweek Magazine has recognized their accomplishments in courtrooms in San Jose, CA and throughout Northern California.
About Summit Defense
Summit Defense Attorneys is a Northern California Criminal Defense Law Firm with offices in San Jose, San Francisco, Oakland, Burlingame, San Rafael and Sacramento. Their accomplished team of trial attorneys includes two former prosecutors, a former police officer and attorneys who graduated from the country's top law schools including Harvard. Their Criminal Defense Attorneys handle the full spectrum of criminal cases with a focus on first time offenders, DUI, Domestic Violence, Theft, Sex Crimes and Felony defense. The firm offers free case consultations for all criminal matters. Contact Summit Defense Attorneys in San Jose, CA at (408) 333-9622.
###