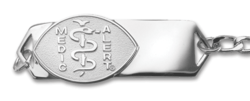 "We look forward in anticipation to a show which is full of shock and awe, and know that our 4 million members worldwide will be chiming in with celebratory laughter by purposefully rattling their MedicAlert bracelets"
Turlock, CA (PRWEB) January 13, 2012
In a recent article (1/11/12) in the New York Times Magazine, comedian Ricky Gervais's 2011 Golden Globe performance was described as only "mildly offensive, at best" and further stated, "It was the sort of material that would have barely rattled MedicAlert bracelets at a Friars Club roast." Grateful for recognizing the nonprofit's reputation as being "the most dependable emergency medical information network in the world," MedicAlert Foundation expresses its gratitude and wishes the comedian the best of luck at this coming Sunday's awards ceremony – even sending Gervais a personally inscribed MedicAlert bracelet to serve as a reminder of the many MedicAlert bracelets which will be rattling with laughter.
"We look forward in anticipation to a show which is full of shock and awe, and know that our 4 million members worldwide will be chiming in with celebratory laughter by purposefully rattling their MedicAlert bracelets" says MedicAlert Foundation's president and CEO, Andrew B. Wigglesworth.
Encouraged by the notion that it takes a lot to rattle a MedicAlert bracelet, Wigglesworth points out that the dependability of the MedicAlert bracelet is even further surpassed by the dependability of the services that complement the bracelet: "Our true dependability is based on the live 24/7 emergency response services in which we relay our members' full medical history to ensure they receive the best treatment."
This weekend, the Foundation will deliver a MedicAlert bracelet to Mr. Gervais. The Foundation has engraved a bracelet with an encouraging message – "Millions of us expect to rattle with laughter – best wishes."
About MedicAlert Foundation
In an era where we can track our Amazon.com order from door to door, our friend's arrival at the local Starbucks, and the number of "likes" on our Facebook posting, why isn't our health and well-being this connected? Why isn't the medical information that matters most this available?
With MedicAlert, it is.
For more than 55 years, MedicAlert Foundation has worked with leading emergency and healthcare professionals to develop state-of-the-art medical information standards and married these with unequaled information security and technology to deliver the most dependable, the most responsive, the most intelligent, the most trusted emergency identification and medical information network.
MedicAlert's industry-leading medical information collection and guaranteed information delivery ensures that emergency responders and hospital staff get your up-to-date medical information when they need it, to make informed decisions about your treatment and care.
MedicAlert doesn't just "alert," MedicAlert informs and guides. MedicAlert ensures medical information gets to emergency responders, nurses and physicians the moment your MedicAlert ID number is provided. Your comprehensive medical history, directives, precautions and wishes are communicated instantly, so that no time is lost "getting up to speed" or worse, "guessing" about your condition.
With MedicAlert, you can be confident and live your life fully with the knowledge that your medical ID bracelet, necklace or shoe tag connects you to the most dependable emergency support network - because every moment matters.
###