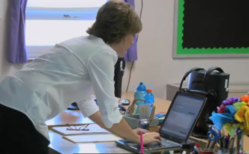 The teachers and administrators who educate our children are incredibly good at what they do. They've shown the people at SINET so much about teaching; we want their voices to be heard by everyone with an interest in education
Salt Lake City, UT (PRWEB) January 16, 2012
As of January 1, 2012, leading developer of PD for educators, School Improvement Network (SINET), is putting out a call for teachers and administrators anywhere in the world to get their voices out, to let their colleagues know about who they are and the important work they're doing, and to contribute to the cause of improving schools. To do this, SINET is making its "School Improvement Blog," along with its thousands of readers, available to educators with a passion for teaching and a message to send.
"As we travel, developing professional education videos, we visit educators in their classrooms and are always impressed by the level of dialogue we encounter," says Curtis Linton, vice president of SINET. "Despite what some in the media might tell you, the teachers and administrators who educate our children are incredibly good at what they do. They've shown the people at SINET so much about teaching; we want their voices to be heard by everyone with an interest in education. Giving teachers access to post on our blog will enable them to influence and inspire thousands of others."
And besides a national audience and the connections and conversations that writers and readers will create, SINET is also offering a free year's subscription to Common Core 360, the industry's premiere Common Core themed professional development platform for educators, to the blogger with the most comments in two weeks time.
"We're establishing three general rules for blog submissions," says Linton. First, be incredible. Write a compelling, instructional blog post of 350 to 800 words that generates conversation. Second, get your friends—and colleagues—involved. Tell all your friends about your post on Facebook and Twitter, and generate some conversation. Third, spread the word. You have something important to say, and we're not the only people interested in hearing you. Post the link to your article on educational sites, news articles, forums, etc."
To get started writing a guest blog post on the School Improvement Blog, or to ask any questions concerning this open call, email Jared Heath at jared(dot)heath(at)schoolimprovement(dot)com
About School Improvement Network
Founded in 1991 by teachers, the School Improvement Network provides comprehensive, research-based professional development anytime, anywhere. As the home of The Video Journal of Education, PD 360, Observation 360, the Learning 360 Framework, Equity 360, and Common Core 360, School Improvement Network resources focus on the most relevant topics, feature the top experts, and show educators how to put theory into practice. School Improvement Network works with thousands of schools and districts in every state and around the world and has visited over 3,500 classrooms to document best practices in action. Learn more at http://www.schoolimprovement.com.
About Common Core 360
Common Core 360 answers the questions that 3.4 million teachers are asking about how to make the Standards work in their classroom every day. Common Core 360 gives administrators, teachers, and instructional coaches the necessary resources to turn State Standards into measurable student achievement. The unique training, expert analysis, and real classroom examples of putting the Standards into practice all come from the same minds that designed PD 360, the world's largest professional development platform. Common Core 360 is directly integrated with PD 360, so educators have a single sign-in solution for the professional learning they need to move forward in the 21st century classroom. Learn more at http://www.schoolimprovement.com/common-core-360.
School Improvement Network, PD 360, Common Core 360, and their respective logos are trademarks of the School Improvement Network. All other trademarks and registered trademarks are the property of their respective owners.
Press Contact:
Duane Sprague
School Improvement Network
801-758-9546
duane(dot)sprague(at)schoolimprovement(dot)com
###