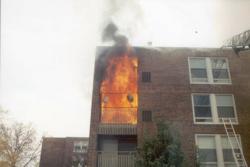 People think their landlord is responsible in the event of a fire. Not true. The landlord is only responsible for the building, not their belongings. Kyle Kennon
Los Angeles, CA (PRWEB) January 15, 2012
In light of the recent string of fires that occurred in Los Angeles, online insurance agent, BMCC Insurance, highly recommends that renter's should protect their belongings with renter's insurance.
The fires are extremely serious, but their publicity can be used for something good. The tragedy of a fire is only compounded when the victim is uninsured for the catastrophe. So, it's important to reach people with this message when they are aware of the issue.
According to a poll done by Allstate Insurance in 2008, 65% of California renter's do not have renter's insurance.
Many apartment dwellers are under the false impression that the landlords' are responsible for the tenant's belongings. Landlords are only responsible for the building, not the tenant's personal belongings.
Many renters pass on renters insurance, because of the cost. They should know that the typical policy costs less than a dollar a day.
BMCC Insurance suggests that all renters do an inventory of their personal belongings with estimated values. For many people it's not hard to get to $10,000 or $20,000 in total value of personal contents. When consumers see the dollar figure, they see the need for protection.
BMCC Insurance is an online insurance agency servicing both personal and commercial sectors. Areas of specialty include auto, home, life and commercial lines.
To contact BMCC Insurance, e-mail Kyle Kennon at kyle(dot)k(at)bmccinsurance(dot)com or Kristine Ter-Arutyunyan at Kristine(dot)t(at)bmccinsurance(dot)com or call 855.855.2622.
###