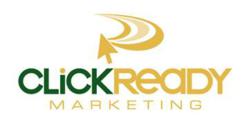 Providing small businesses with a service that allows them to compete effectively online allows them to grow their customer base and in many cases even hire new employees
Atlanta, Georgia (PRWEB) January 14, 2012
These new plans include: YouTube Slideshow Video Creation, SEO Press Releases, Paid Mommy Blog Reviews, Link Building, FaceBook Marketing, Google Places Optimization, and Google Adwords to just name a few of the offsite services included in these new small business plans In addition; onsite services include: Blog Content Creation, Lower Navigational Page Creation, Page Title and Meta-description Optimization, Alt Tag Creation, Heading Tag Optimization , Site Map Installation, Anchor Tag Strategy, Keyword Research, and Content Optimization. These hosts of service feature are usually reserved by companies with large marketing budgets.
Craig Lawson (President of Click Ready Marketing) is proud to offer these budget friendly service plans. Lawson says, "Providing small businesses with a service that allows them to compete effectively online allows them to grow their customer base and in many cases even hire new employees". Lawson further stated that, "small business is the backbone of jobs in America". He explained; "large companies with huge marketing budgets have controlled online advertising in the same way they use to control yellow page advertising". Today the internet has allowed a leveling of the access to consumers. These new plans Click Ready is offering will even make it more affordable for them to gain consumer awareness.
Today world has changed. People routinely search online to research service and product offerings. If consumers cannot find your site; a business could be missing opportunities daily. While at the same time an internet savvy competitor may be gaining these prospective clients strengthening their organization. This is in part why Click Ready Marketing has decided to offer these small business plans.
If you would like to learn more about this Atlanta SEO Company; please visit their site at http://www.clickreadymarketing.com .
###