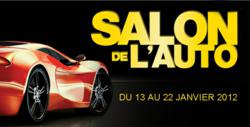 Since (I believe) the Optima Steamer can be of great interest to auto dealers in Canada, it gives credibility and opportunity to meet with decision makers and present them the product.
Montreal, QC, Canada (PRWEB) January 16, 2012
Between January 13th and 22th, over 250,000 attendees will have visited the Palais des congrès de Montréal for the Montreal International Auto Show. This premier auto show is a much-anticipated annual rite among Montréalers, and it is one of the most important events of its type in Canada. The auto show features over 650 vehicles and related products on 375,000 square feet (34,800 m2). This year marks its 44th year of tradition.
This year some lucky attendees may stumble upon booth #7C-03 where InnovaSteam will showcase the Optima Steamer.
InnovaSteam of Terrebonne, QC became the first authorized distributor of the Optima Steamer in Canada in June 2011. "This show is one if not the biggest auto show in Canada. It's a great opportunity to get exposure and to get a first hand response of end users. Since I believe the machine can be of great interest to auto dealers, it gives credibility and opportunity to meet with decision makers and present them the product," said Mr. Michel Asselin, the president of InnovaSteam.
In the auto industry the Optima Steamer is used to steam clean both vehicle exteriors and interiors. The Optima Steamer is ultimately a tool that reduces vehicle wash time. For instance, an operator can steam clean the exterior, door jambs, interior windows, dash board, and perform spot stain removal in one continuous motion; all without having to slow down or switch tools."Steam car wash" has become synonymous with eco-friendly car wash. Most notably, steam car wash eliminates waste-water run-offs. Cleaning with steam minimizes both water and chemical consumption. Steam also sanitizes on contact without chemicals, providing a safer environment for vehicle occupants.
Around the world, the Optima Steamer has become a "green" alternative for conventional (hot water) pressure washers and is also used to remove weeds, sanitize and clean playgrounds, medical facilities, commercial kitchens, boats, school buses and more.
The Optima Steamer is now available in Canada through InnovaSteam. To learn more about the Optima Steamer, please contact InnovaSteam at (800) 4STEAM1 or by visiting http://www.innovasteam.com.
For more information on the Optima Steamer in the US, please contact Steamericas, Inc. at (310) 327-8900 or by visiting http://www.steamericas.com.
# # #