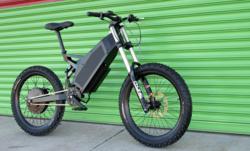 Scottsdale, AZ (PRWEB) January 14, 2012
Drive the Dream is Child Help's annual fundraiser which includes both local and national celebrities as well as the Valley's most philanthropic individuals dedicated to improving the welfare of abused children.
The "A Night of American Dreams" themed fundraising event on Saturday, January 14th will feature entertainment by Michael Bolton and give awards to Nancy Grace and Kathie Lee Gifford.
The Stealth Electric Bikes USA donation of a custom-built Stealth Fighter at this event will support the programs and services of Childhelp.
The Fighter by Stealth Electric Bikes has a top speed of up to 30 mph in competition mode and offering distances of up to 37 miles on one charge. The Fighter standard suspension set up includes over 180mm front suspension and 200mm rear standard. The Fighter comes in at a weight of only 75lbs.
Due to consumer popularity and demand by new dealers, distribution is now available throughout the United States, Canada, Australia, Germany, France, and the United Kingdom.
About Stealth Electric Bikes USA
Stealth Electric Bikes USA is based in Phoenix, AZ and can be found online at: http://stealthelectricbikesusa.com
About Childhelp
Childhelp is a non-profit organization whose mission is to meet the physical, emotional, educational and spiritual needs of abused, neglected and at-risk children. Childhelp is not affiliated with Child Protective Services, any governmental agency, political party, religious denomination, or any other entity, organization or institution. You can find out more about Childhelp at http://childhelp.org
###