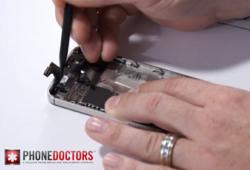 Just about any consumer can easily repair their own phone or mobile device
Tulsa, OK (PRWEB) January 17, 2012
The international Consumer Electronics Show is typically filled with innovative new electronics and related accessories. However, this year one company focused on extending the life of your favorite mobile phones, gadgets and mobile devices.
Phone Doctors is leading the industry in providing consumer-friendly D.I.Y. Kits that can be offered by retail establishments both locally and on the web. The enormous demand for Smartphone repair has created a great opportunity in the Do-It-Yourself marketplace. Consumers can quickly and easily repair their iPhone, Android and Windows phones with easy to follow instructions, as well as all of the required tools and parts needed for a successful repair.
Phone Doctors DIY Kits also include a DIY version of the ScrewMat. The ScrewMat is a patent pending invention by CEO Alex Iser which simplifies the process of repairing smartphones. The iPhone 4 has a variety of over 30 extremely small parts that are required to fit in specific places. Normally, this causes the repair process to be a daunting task. The ScrewMat magnetically holds the screws while providing an easy to follow guide detailing where these screws belong so that screws are not stripped or placed in a way that could damage the replacement screen.
"The ScrewMat not only saves you time and money, but it truly makes repairing your iPhone 4 simple. When you combine this with our step-by-step guides in our mobile app and the comprehensive training videos, then just about any consumer can easily repair their own phone or mobile device," said Alex Iser, CEO of Phone Doctors.
Phone Doctors has developed an innovative mobile application and a series of YouTube videos that are designed to help both professionals and consumers repair Smartphones more efficiently. This mobile application features step-by-step repair guides and direct access to videos for all major Smartphone and mobile devices.
In an article on TreeHugger.com, Jaymi Heimbuch wrote "After all the wandering through booths providing new gadgets to people, it is a relief to see a booth that is offering knowledge about repairing those various gadgets." Heimbuch came by the Phone Doctors booth at the Consumer Electronics Show. "They are empowering people to do their own repairs through online manuals, replacement parts, and some helpful tool kits. More than that, they're providing the motivation for people to start their own gadget repair businesses," wrote Heimbuch.
Phone Doctors encourages people to help fill a void left by large carriers and stores that are not interested in providing repair services for mobile phones and devices. "The carriers are interested in selling new products, warranties and new service agreements," said Tony Baker, Vice President of Marketing at Phone Doctors. "However, the best deal for consumers and for the environment is to extend the life of existing Smartphones and gadgets by simply repairing them. In this economy, repairing and refurbishing phones is a great option for consumers who don't want to pay high monthly rates for contract service and warranties, especially when deductibles are often higher than the cost of repair. The demand by consumers and the lack of interest from carriers has created a great opportunity for people who not only want to use Do-It-Yourself repair, but for those who want to start or add Smartphone Repair to their business or income," said Baker.
Phone Doctors is offering live training events in Tulsa, Oklahoma for businesses who want to become a Phone Doctors Certified Service Center. For more information, please visit http://PhoneDoctors.com/join/
About Phone Doctors
Phone Doctors has been providing repair and replacement services for consumers since 2003. Today Phone Doctors serves as a complete solution provider for the smartphone repair industry. Phone Doctors is based in Tulsa, OK and can be found online at http://PhoneDoctors.com
# # #