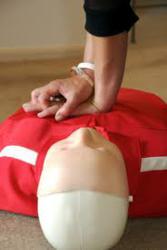 "CPR saves lives."
San Jose, California (PRWEB) January 17, 2012
San Jose CPR Certification is proud to announce the grand opening of a new CPR certification school in San Jose, CA. Their newest CPR classroom is located close to the major San Jose Freeways at 545 Meridian Avenue. Students are able to take CPR, First-aid, BLS, and ACLS certification classes by the American Heart Association. "I am very excited to provide American Heart Association CPR training classes in San Jose." says Charles Seidel, the owner of San Jose CPR Certification.
As the first link in the chain of survival, the use of CPR has been proven to be very effective. It's a recommended first aid option for drowning victims as well as people who are having difficulties with their respiration. And given the fact that heart attacks account for the highest percentage of adult deaths in the home, it is easy to understand why CPR certification is required for medical professionals. It is important to realize that being employed in the medical service is not a prerequisite to earning CPR certification. Although CPR certification is mandatory among those working in the medical field, they are also encouraged among other members of society. People who are employed in social circles such as teachers or child care providers in San Jose have a lot to gain from receiving professional CPR training.
To encourage the idea, San Jose CPR training courses are very affordable. There are a few details that should affect the decision of where people choose to receive their CPR training. One of these is the accreditation of the training center. The best CPR certifications are those that come with the approval of health organizations such as the American Heart Association. The American Heart Association is responsible for many of the guidelines used during CPR. Such training programs can usually be trusted to have detailed emphasis on when and how to administer CPR to both children and adults. Another detail that you will need to consider is the location and timing of the course. San Jose CPR Certification teaches CPR classes during the morning, evening, or on weekends.
San Jose CPR Certification provides American Heart Association CPR classes to the public in San Jose, CA.
###