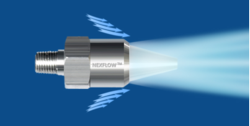 Toronto Ontario (PRWEB) January 16, 2012
The Nex Flow ™ Compressed Air Operated Air Nozzles are now available in stainless steel as well as their original anodized aluminum material. Available now in 303/304 stainless steel and in 316L stainless steel for food and pharmaceutical applications and for heavily corrosive environments, these Air Nozzles are ideal for blow off applications.
Nex Flow™ Air Nozzles are already used extensively for blowing off liquids and dirt from all types of surfaces in its original anodized aluminum version and for applications such as part ejection and spot cooling. The expanded range now allows for their use in virtually any environment.
Different nozzles have different inlet and outlet sizes and the more air used, the greater the force produced. Noise reduction is up to 10 dBA as well as reduced air consumption when compared to open jets and tubes. Nex Flow™ Air Nozzles operate by entraining air from the surrounding environment along with the compressed air use, amplifying the air flow at the outlet. Because the flow produced is "laminar" its effective range is much greater than open tubes and jets.
The most important reason to use Nex Flow™ air nozzles is their safety . All Nex Flow™ air nozzles and jets meet OSHA standard CFR 1910.242(b) for dead end pressure. Noise levels are dramatically lower with air nozzles in addition to lower energy use.
See http://www.nexflowair.com or http://www.nex-flow.com for full product details and prices. Other air blow off and cooling products are described in detail on the web sites.
Application help is just a E-mail away at sales(at)nex-flow(dot)com or by calling Toll Free 1-877-797-2777 in the USA and Canada. International calls use +1-416-410-1313.
###