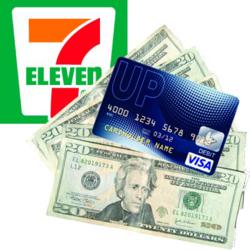 New York, NY (PRWEB) January 17, 2012
Plastyc announced today that effective immediately, UPside Visa cardholders can load cash onto their cards at more than 6,500 7-Eleven stores throughout the U.S. with a simple swipe of their card at the stores' cash registers.
Swipe&Load technology makes it faster and easier for people to add cash to their reloadable cards. Now cardholders can visit any 7-Eleven store in the U.S and hand their UPside Visa card and cash to the cashier. The cashier swipes the card and the money is added to the card on the spot.
This valuable feature is made possible through Plastyc's partnership with Green Dot Corp. Green Dot is a publicly traded bank holding company which owns and operates the Green Dot Network, the largest cash reloading network in the United States.
"Green Dot's network simplifies the process of adding cash to prepaid card accounts, and anything that makes life easier for our cardholders is a good thing. We're pleased to be the first Green Dot partner to offer this new service to our cardholders," said Patrice Peyret, CEO of Plastyc.
Using Green Dot's Swipe&Load functionality allows UPside Visa cardholders to immediately use the deposited cash to pay bills online, shop anywhere Visa is accepted, top off cell phone minutes, and even issue paper checks from their mobile or online account.
"We continue to innovate and provide new ways for our partners to extract value from the Green Dot Network," said Secil Baysal, General Manager of the Green Dot Network. "This Swipe&Load functionality enhances the competitiveness of the Green Dot Network by providing unique value and convenience to our partners and their cardholders."
The Swipe&Load service and Green Dot MoneyPak each cost $4.95 or less. Plastyc adds no additional fees. View a 1-minute video about the UPside card's Swipe&Load feature here: http://www.youtube.com/watch?v=yQaaxm4CgLQ. And learn more the UPside card at http://www.upsidecard.com.
###