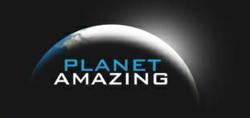 The horse cribbing solution is made from the most bitter tasting solution on the earth.
Austin, TX (PRWEB) January 14, 2012
Planet Amazing has a new horse cribbing solution that they say is made from the most bitter-tasting substance on the earth, and which is completely safe for horses. They say it is also can save a horse's life because it causes most horses to stop cribbing. Cribbing is a bad habit some horses develop where they chew wood, leading to problems with gums, teeth, and other horse health problems.
Roland Frasier of Planet Amazing says the horse cribbing solution is made from the most bitter tasting solution on the earth and that most horses will stop horse cribbing because they don't like the taste. He says "Bitterlicks is easy to apply from the provided spray bottle. Just spray on the wood in the horses stall & wait. Bitterlicks is as thin as water and sinks into raw wood and is effective for up to 1 year from application."
"Bitterlicks was originally designed for wooden stalls", Mr. Frasier says. "However, we have seen it successfully on metal and plastic fencing and stalls. It has a binding ingredient that allows it to adhere to almost any surface. When applied on metal or plastic surfaces, it does seem to drip off. However, the active ingredient does indeed bind to the sprayed surface. Make no mistake, you may have to apply multiple treatments. We have also seen great success to stop horse cribbing when applied to fabric that has been wrapped onto the metal or plastic."
To order Bitterlicks horse cribbing solution, visit their Bitterlicks page at Amazon.com.
About Planet Amazing
PlanetAmazing.com is the premier manufacturer and distributor of a wide range of organic and inorganic "GRAS" solutions that anyone…no matter their experience…can use to eliminate real everyday problems.
###