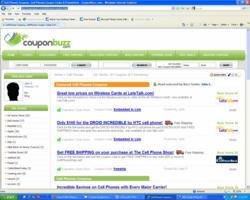 We are incredibly excited about HzO technology and the implications it has for all kinds of tech, not just cell phones.
Houston, TX (PRWEB) January 15, 2012
CouponBuzz.com welcomed HzO technology to the cell phone industry today as they announced the launch of their cell phone coupon section. This dedicated webpage aggregates the best deals on cell phones and cell phone accessories available online, allowing internet shoppers to view coupons for a large variety of cell phones across a wide selection of carriers.
Justin Bowen, a spokesperson for CouponBuzz.com said today, "We are incredibly excited about HzO technology and the implications it has for all kinds of tech, not just cell phones. But for everyone who has ever had to purchase a new cell phone because theirs fell in the sink, or in a snow bank, or a puddle, HzO is the stuff dreams are made of. As we launch our new cell phone coupon webpage we are thrilled to have this great new tech capability on the horizon."
HzO was introduced at last week's Consumer Electronics Show in Las Vegas, Nevada, and received the prestigious CES Innovations Design and Engineering Award. Featured in the New York Times, USA Today and Forbes Magazine, as well as Good Morning America, this new product has America buzzing. The stunning demonstration of an iPod completely submerged in a tank of water had visitors to the convention literally stopping in their tracks. Especially when a closer look revealed the iPod was still pluckily working its way through a playlist on repeat, with no apparent adverse effects.
The HzO media sensation promises to revolutionize the tech world. HzO works by waterproofing gadgets like laptops, smartphones, iPads, iPods, etc., from the inside out. It was developed by a Utah-based startup company who describe their product on their website as: "A chemical vapor deposition that blankets vital electronic circuitry with a nano-thin film containing highly effective, water-repelling properties…blocking out moisture without interrupting electronics. HzO's remarkable technology protects electronics from…water damage after getting caught in a rainstorm or a clumsy drop in the sink (or dare we say it, a public toilet)…"
CouponBuzz.com knows that for those who have dropped a cell phone in the toilet, or an equally soaking environment unfriendly to electronics, the cost of a new cell phone can be prohibitive. Many consumers are surprised when they start comparing the actual retail pricing for new cell phones. Because most cell phone carriers offer a significant price break on the cost of a phone when customers sign or upgrade a contract with them, the most expensive time to be searching for a cell phone is mid-contract. In today's cell phone dependent environment, if a cell phone is lost or stolen, smashed, broken, or fried, finding a new one becomes a priority. Unfortunately, damage and loss do not usually occur exactly on the day a contract expires. Which is why CouponBuzz.com decided to create a section dedicated to cell phone coupons, for consumers to whom the fates have not been kind.
CouponBuzz.com offers a great variety of cell phone coupons, now all aggregated in one location at http://couponbuzz.com/cell-phones-coupons.html, making it a wonderful resource for consumers whose phone has taken a trip on the wet and wild side. If HzO becomes as ubiquitous as appears likely today, consumers may no longer be searching for a new cell phone just because theirs got a dunking. But visiting the new CouponBuzz cell phone coupon page is still a great way to spend five minutes, because no one has invented tech that can magically return a lost or stolen cell phone to its owner. At least, not yet, anyway.
###