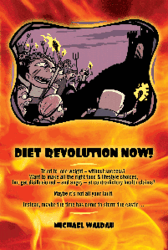 This new book that goes beyond fad diets and miracle weight-loss centers.
Houston, TX (PRWEB) January 18, 2012
Anyone who wants to take control of his life and health will find what he needs in this new book that exposes fad diets and miracle weight-loss scams. A comprehensive strategy provides the weapons people need to fight obesity and work toward new personal health goals, notes this new book released by Dog Ear Publishing. "Re-connecting" with real foods – those that are minimally processed – and a more active lifestyle are just two of the methods to get on the right track toward health, the author writes. Whether the goal is to lose weight or to elevate an already healthy lifestyle to a new plateau, this book provides the tools to accomplish it.
Diet Revolution Now! calls for nothing less than an individual diet – and lifestyle – revolution for healthy living, covering everything from poorly designed food pyramids (and a ground-breaking new "Food Ark") to overcoming one's sweet tooth and making exercise a permanent part of one's life. The author practices what he preaches, proving his methods work; he has kept his body fat content in the 5 percent range for more than 20 years. Among his trusty tools are an accurate scale, a timer to measure delayed gratification, a "Food Ark" he created to refute the typical food pyramid, and the realization that too much of even the healthiest food isn't healthy. A chapter where he debunks popular food and dieting myths provides the icing on the cake, so to speak.
Author Michael Waldau has been a certified Lifestyle and Weight Management Coach and sports nutritionist since 1997. More than 20 years after a knee operation resulted in a lifestyle change, Michael Waldau has participated in hundreds of races, including 19 ironman-distance events, six sub-3 marathons, qualified for Kona four times, and competed in triathlons, duathlons, swim meets and bicycle races. He has won state and national age-group titles.
For additional information, please visit dietrevolutiononline.com.
Diet Revolution Now!
Michael Waldau
Dog Ear Publishing
ISBN: 978-1-4575-0445-7 220 pages $20.00 US
Available at Ingram, Amazon.com, Barnes & Noble and fine bookstores everywhere.
About Dog Ear Publishing, LLC
Dog Ear Publishing offers completely customized self-publishing services for independent authors. We provide cost-effective, fast, and highly profitable services to publish and distribute independently published books. Our book publishing and distribution services reach worldwide. Dog Ear authors retain all rights and complete creative control throughout the entire self-publishing process. Self-publishing services are available globally at http://www.dogearpublishing.net and from our offices in Indianapolis. Dog Ear Publishing – self-publishing that actually makes sense.
###