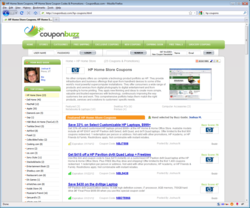 One of the reasons we enjoy showcasing HP coupons so much is that HP consistently offers great deals that work very well together.
Houston, TX (PRWEB) January 16, 2012
CouponBuzz.com introduces huge savings on HP printers with several fantastic HP coupons valid during the week of January 15 thru January 21, 2012. On their newly launched HP coupons webpage, a personal Buzz Guide hand-selects the best HP coupons to feature in special section at the top of the page. This week's coupons highlight two best-selling printers. An $80 OFF coupon for the HP Officejet 100 Mobile Printer, and a $70 OFF coupon for the HP Officejet 7500A Printer. For savvy shoppers who want to stock up on printing supplies at the same time, a coupon for a Free $10 gift card with a purchase of 2 HP ink multipacks, and a Free Shipping coupon are also featured.
"One of the reasons we enjoy showcasing HP coupons so much is that HP consistently offers great deals that work very well together," said Justin Bowen, head of marketing at CouponBuzz.com. "These two great money-off coupons on high quality printers are accompanied by other coupons for printer ink and free shipping. That kind of a mindset makes sense to us, and we think it will to consumers as well."
As the politician's antics are getting more and more intense in 2012, the presses are gearing up for the news heavy, photo rich, and quote filled environment of an election year. While these HP printers are not necessarily commercial grade, they are more than capable to get all the news rolling 'off the presses' in the homes and business of American consumers. The HP Officejet 7500A features a 2.36 touchscreen, printing from mobile devices, and versatile printing in paper sizes up to 13x9. It has a much lower energy footprint than other laser printers, and its cost per page is also very low. The HP Officejet 100 Mobile includes a long-lasting lithium ion battery and Bluetooth wireless printing, fast printing (22 ppm), and a compact, rugged design. With dimensions 13.7 x 6.91 x 3.32 in and weighing only 5 pds, it's a perfect printer to take on the road for business travelers or students who need to pack light. But then, both printers have to be great buys to land a featured spot in CouponBuzz.com's special HP coupon section.
CouponBuzz.com strives to post the very best HP coupons as soon as HP offers them. And regardless of whether Mitt Romney is a venture capitalist or a vulture capitalist, it would seem that he, like HP, understands the value of marketing. As the political debate gets hotter, reaction instincts and timeliness become increasingly essential. The key to success is the ability to seize the right moment. And any online shopper knows that for the very best coupons, the window of opportunity is always brief. For all 'printing presses' at a home or office that could use an upgrade, visit the HP coupon section at http://couponbuzz.com/hp-coupons.html this week, while these offers are still available.
###