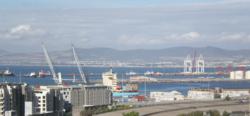 Our goal is to implement sustainable security strategies for our clients that mitigate risks and demonstrate our clients' commitment to the environment and communities in which they operate.
San Diego, CA and Cape Town, South Africa (PRWEB) January 17, 2012
FocusPoint International, Inc. (FocusPoint) a leading provider of global security and specialty risk management services, today announced the establishment of FocusPoint South Africa, (PTY) LTD. (a wholly-owned subsidiary of FocusPoint International). FocusPoint South Africa's regional headquarters (based in the Claremont CBD of Cape Town, SA) will serve as the central hub for all business activity carried out in Africa. The decision to open the office comes in response to increased client demand and a very fluid and challenging security environment throughout most of Africa. The company's core geographic strengths and primary focus includes Nigeria, Guinea and Senegal in the West; Kenya and Tanzania in the East; Namibia, Zimbabwe, Mozambique and South Africa in the South.
"The emerging markets in Africa offer significant growth opportunities for multinational companies in several industry sectors and bring excitement to investors. However, as we saw with the Arab Spring of 2011, these markets also represent significant security challenges that require holistic solutions that address potential threats and minimize risk to an acceptable level", said Greg Pearson, CEO of FocusPoint. "We've been well received by the market in South Africa. Establishing a base of operations here allows us to meet with key decision makers for multinational companies at a moment's notice, many of which base their African headquarters in South Africa."
According to the IMF, sub-Saharan Africa is expected to out-pace global economic growth, which averages 4% by 1.75% this year alone. "We're excited to contribute to the growth in this market and look forward to supporting not only multinational companies, but local African companies as well", added Pearson. Resource exploration companies in the mining and oil & gas space have utilized the security advisory, protective services and crisis response capabilities of FocusPoint in several high risk environments. The company hopes to leverage their exposure to expand market share and introduce its full range of services to other key industries, such as manufacturing, technology and the maritime sector. "Our goal is to implement sustainable security strategies for our clients that mitigate risks and demonstrate our clients' commitment to the environment and communities in which they operate" said Pearson.
FocusPoint offers a full range of security, consulting and investigation services that enables its clients to enter emerging markets and operate with confidence in hostile environments. Key services offered in and throughout Africa include - market entry risk analysis; predictive intelligence; threat, risk and vulnerability assessments; security project management; security audits; embedded security managers; close protection services; investigation of fraud & illicit trade; crisis response to matters of kidnap, extortion and piracy. FocusPoint South Africa's Cape Town operation will include a state of the art incident management & emergency response center. The center will monitor geopolitical risks in the region and serve as a central communications hub for global operations.
ABOUT FOCUSPOINT
FocusPoint is an independent security advisory and risk management company providing an integrated suite of security, consulting and investigation services to Fortune and FTSE 100 companies, governmental agencies, non-profit organizations and high net-worth individuals. FocusPoint is headquartered in San Diego, CA and maintains a presence in key business centers around the world. FocusPoint partners with its clients to help them prepare, mitigate, respond and recover from the growing risks and worlds events often encountered when operating in the global marketplace. FocusPoint enables the execution of business strategy across the enterprise by properly deploying people, process and technology to protect personnel, business operations and secure critical assets. For more information, visit http://www.focuspointintl.com.
Media Relations
FocusPoint International, Inc.
+1 619 717 8554
media(at)wwfocus(dot)com
###