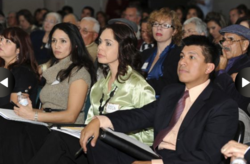 Young Hispanics are seeking to express their voice with a new attitude and sense of purpose
Santa Ana, California (PRWEB) January 16, 2012
The 2012 Hispanic Voice Town Hall Tour successfully launched on January 11th in Santa Ana, California and it was clear that young Latinos are ready to change the story with fresh perspectives. A full room of participants and members from the local and national media witnessed the changing of the guard as young Latinos are ready to take over and play a more prominent role in how Hispanics influence policy makers, corporate leaders and the rest of America about their future. According to 2012 Hispanic Voice Founder Glenn Llopis, "young Hispanics are seeking to express their voice with a new attitude and sense of purpose. There is a dynamic convergence that is taking place across all generations that we (Hispanics) represent. Young Hispanics across America are eager to utilize the 2012 Hispanic Voice platform to showcase a new and energized Hispanic voice that has yet to be fully unleashed. They want results: less talking and more doing from Hispanics in America!" The Town Hall Tour kick-off in Santa Ana reflected the powerful diverse thinking that is embedded in the rich legacies and multiple cultures that represent the Hispanic community in America.
2012 Hispanic Voice will now take its initiative to Las Vegas, Nevada in February that represents a strong constituency of young Hispanic voices that will continue to add to the agenda items discussed at the Santa Ana event. According to representatives from 2012 Hispanic Voice, their goal is to define an agenda that will unite Hispanic voices to key policy issues so that Hispanics can own their vote by approaching this critical decision with fresh perspectives that will best represent their community's ability to advance and become a more integral part of America's future. Llopis continues, this initiative will organically focus on increasing Hispanic voter turnout with the goal of advancing our united voice with a new outlook and commitment that "changes our story" so that we can begin to work closer with government and big business for a better America.
The 2012 Hispanic Voice is a nonpartisan initiative aimed to help Hispanics in America understand the responsibility of their voice and identity to cultivate sustainable economic prosperity in America. Date and location for the Las Vegas Town Hall will be announced the week of January 23rd. Stay updated on Tour calendar and events at http://www.2012HispanicVoice.com. For more information on how you can host a Town Hall Tour event in your city and / or if you are interesting in being a volunteer, please contact us at: ideas(at)2012HispanicVoice(dot)com.
###