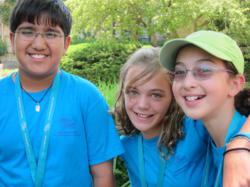 My favorite part was every day because I always learned something new and had fun.
Evanston, IL (PRWEB) January 23, 2012
The Center for Talent Development's Summer Program has gained global recognition as a premiere learning and life-changing experience for gifted students age 4 through grade 12.
The Summer Program challenges gifted and talented young people through fast-paced enrichment, honors and Advanced Placement® courses offered in a supportive environment. It is designed to meet the unique learning needs of academically gifted students, helping them discover and develop their potential.
The program is available in 1, 2 and 3-week sessions, includes residential and commuter options, offers unique service-learning programs (grades 7-12), and promotes challenge and learning enhanced by friendship and fun.
Check out what former students have to say and why they think other students should participate: http://www.ctd.northwestern.edu/summer/join-us/.
NEW IN 2012

Innovative Creative Studies offerings
Second program site for grades 4-6 in Elmhurst, Illinois
Expanded three-week enrichment courses for grades 7-8
New subjects, new courses, new cutting-edge experiences for all age groups
Financial aid and scholarships are available.
Visit the website for information and online application: http://www.ctd.northwestern.edu/summer.
Center for Talent Development is part of the School of Education and Social Policy at Northwestern University. It is led by nationally recognized scholar Dr. Paula Olszewski-Kubilius and has served over 500,000 gifted students, their families and educators since its establishment in 1982.
###