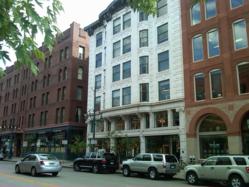 We are ecstatic about returning to our roots, and rejoining the Denver business community
Denver, CO (PRWEB) January 16, 2012
Gondola Resorts, the vacation rental company of choice for ski resorts in Colorado and Utah, announced today the relocation of its national headquarters to Colorado in the LoDo district of Denver. The headquarters also includes its Florida affiliate of Orlando.
The company will occupy space at The Oxford Annex Executive Suites located at 1616 Seventeenth Street, just across the street from Union Station, and 3 blocks from Coors Field. The new location will provide employees with proximity to transportation hubs and Denver's thriving local lower downtown business community in addition to RTD's FasTracks Light Rail System.
FasTracks is RTD's voter-approved transit program to expand rail and bus service throughout the Denver metro area. FasTracks will build 122 miles of commuter rail and light rail, 18 miles of bus rapid transit service, add 21,000 new parking spaces, redevelop Denver Union Station and redirect bus service to better connect the eight-county District.
"We are ecstatic about returning to our roots, and rejoining the Denver business community," said Gino Malara, General Manager of Gondola Resorts. "The relocation of Gondola Resorts' headquarters to lower downtown will allow for proximity to convenient transportation via light rail options, as well as amenities such as conference and hotel space for future Gondola Resorts events. When the RTD Rail Line is complete, it will allow for easy access to Denver International Airport and hopefully our local ski resorts in the future", Malara said.
In 2011, The U.S. Department of Transportation awarded RTD FasTracks of Denver with a $1.03 billion Grant for a light rail train system to Denver International Airport and to the city of Arvada and Wheat Ridge.
FasTracks is the largest transit grant awarded by the Obama Administration to date.
Gondola Resorts officially began operations in the Oxford office in early December 2010. The organization will continue to provide full check-in offices at all of their resort locations including Aspen, Breckenridge, Copper Mountain, Keystone, Park City, Orlando, and Telluride, through affiliate partnerships. The move has allowed the organization to take advantage of the current real estate environment, and provides a cost savings which will help better serve their vacation rental customer's business needs at 10 different mountain resorts and sun/beach locations nationwide.
About Gondola Resorts
Gondola Resorts, Inc. provides luxury vacation rental homes, condos and villas delivering on the promise of helping vacation travelers discover the alternative to small and confined hotel rooms. Gondola Resorts is one of the leading regional lodging providers, offering rentals in some of the most spectacular resort locations in Colorado, Utah and Florida. Gondola Resorts is based in Denver, Colorado with partnership operations in Aspen, Breckenridge, Copper Mountain, Deer Valley, Keystone, Park City, Orlando, Steamboat Springs, Summit County, The Canyons and Telluride.
###