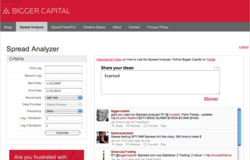 "The $Spread Stream is a source of great trading ideas from spread traders around the world" - Michael Bigger, founder of Bigger Capital
Cold Spring Harbor, NY (PRWEB) January 18, 2012
Last week, Bigger Capital introduced the $Spread Stream, the first social media stream dedicated to stock spreads and pairs trading. The $Spread Stream is a free service that consolidates tweets about stock spreads and pairs trading in one place, on Bigger Capital's Spread Analyzer site. The Spread Analyzer is a tool that statistical arbitrage stock pairs traders use to analyze stock spreads for their statistical properties.
The $Spread Stream went live last week. Michael Bigger, founder of Bigger Capital, said, "Today is Day One for innovation. The $Spread Stream is a source of great trading ideas from spread traders around the world." Traders can post to the $Spread Stream indirectly by including "$Spread" in tweets or directly by entering an idea in the "Share your ideas" box on the Spread Analyzer site. Traders can also tweet output from the Spread Analyzer calculation directly using the "tweet" button. Jennifer Galperin, trader and spokesperson for Bigger Capital, said, "We are excited to bring the $Spread Stream to our spread trading community. It gives traders an advantage in finding pairs of stocks that are interesting to trade."
For more information about the $Spread Stream, including scheduling for Bigger Capital's upcoming webinars, please go to http://www.biggercapital.squarespace.com/spread-analyzer. New users can watch an instructional video here.
Bigger Capital is a trading group that focuses on empowering smart traders to collaborate creatively. The group uses social media networking and blogging to bring together great ideas from traders around the world. Its founder, Michael Bigger, is an investor and a trader who has been involved with trading technologies for more than twenty years. In 1992, Bigger joined Citibank as head trader of U.S. single-stock derivatives, where he managed a $5 billion portfolio of equity derivatives. In 1998, he joined D.E. Shaw & Co., L.P. to trade the U.S. equity derivatives portfolio.
# # #