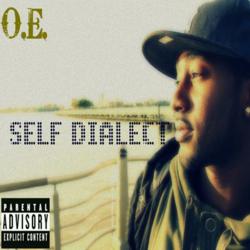 Miami, FL (PRWEB) January 16, 2012
Hip hop artist OE recently released his mixtape "Self Dialect." Coast 2 Coast Mixtapes presents the project, which is available for free download. "Self Dialect" features OE on tracks with guest artist appearances from Ty Jack, Bril, Mirisa, and Illy. Production credits include Christian Kanu, 9th Wonder, 86D, Nel-E-Nel, Ballistik Beatz, Evidence, 40, Double G, Superficial, Demo, and DGlassB.
OE is a 21-year-old MC from New York. He reps Brooklyn (where he was born), Long Island, and the Bronx (where he was raised). OE was influenced by music at a young age by his uncle DJ Jelly Bean, who would play songs like "Rapper's Delight" and "Juicy" by Biggie. OE's favorite rapper is Biggie, and his favorite rap group is A Tribe Called Quest.
OE wrote his first rap song when he was just 10 years old, though he didn't take his craft seriously until he was in 8th grade, when he was encouraged by his friend Illy, a fellow Long Island MC (and also Rakim's son). From there he started recording on the audio setting with a camcorder. He slowly worked his way up to a USB computer mic and laptop setup, and now finally a recording studio. "Self Dialect" is his first mixtape, released on his mother's birthday. "Self Dialect" is a mix of original, industry, and sampled beats, using tracks from known producers such as 9th Wonder, 40, and Evidence and putting his own twist on them. OE wanted to pick out beats that he felt sounded unique and refreshing for hip hop and his style as an MC. Now that OE has successfully released this first mixtape, he plans on releasing visuals for "Self Dialect." At the same time, he will be remixing popular songs on the radio and releasing another mixtape in March 2012, which will be similar to Lil Wayne's "No Ceilings." OE will release another tape over the summer, and there are also talks of a collab mixtape with his in-house producer and rapper Christian Kanu, as well as collaborations with other local artists.
"Self Dialect" is available for free streaming and download at http://coast2coastmixtapes.com/mixtapes/mixtapedetail.aspx/oe-self-dialect.
###