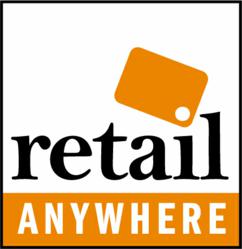 Paso Robles, CA (PRWEB) January 16, 2012
Retail Anywhere, a leading provider of point of sale and retail management systems for midsize retailers, will unveil integration between Retail Anywhere POS and NetSuite's cloud computing ERP platform at National Retail Federation's Annual Convention and Expo. This integrated solution unlocks a comprehensive multi-channel retail management solution for retailers.
At Booth 2059 in the Expo Hall of Jacob K. Javits Convention Center, Retail Anywhere representatives will demonstrate it's new multi-channel retail management solution, consisting of NetSuite's cloud computing business management suite and Retail Anywhere POS. NetSuite is a comprehensive offering of cloud-based solutions to support multiple business areas from eCommerce and order management to CRM, inventory, and financials. Retail Anywhere POS is a robust, on-premise application utilizing web services to support near real-time, bi-directional integration between NetSuite.
Retailers looking for a cloud-based retail management system with on-premise point of sale can turn to Retail Anywhere for a solution to meet their business needs. Additionally, retailers currently using NetSuite as their ERP platform can easily transition to Retail Anywhere POS for NetSuite and leverage an end-to-end solution with a single data source.
As a NetSuite Solution Provider, Retail Anywhere provides its customers with NetSuite's ERP platform and required NetSuite modules along with Retail Anywhere POS. Retail Anywhere also works with existing NetSuite users looking to adopt an integrated point of sale solution.
Retail Anywhere is already deploying the integrated solution to several retailers. Early adopters include Elaine Turner, Northern Brewer, Make-Up Designory and many more.
For more information and a demonstration, stop by Retail Anywhere's booth 2059 at NRF's Big Show, January 16th and 17th.
About Retail Anywhere
Retail Anywhere delivers an end-to-end retail management solution for midsize retailers. Designed to improve profitability and deliver enhanced customer service across channels, the Retail Anywhere software suite offering includes; POS, merchandise management, eCommerce, financials, CRM, business intelligence, warehouse management, and mobile applications. With 28 years' experience, Retail Anywhere provides a complete solution with software, hardware, and services including a Software as a Service (SaaS) delivery model with low monthly fees and reduced upfront costs.
For more information, please visit http://www.retailanywhere.com.
###