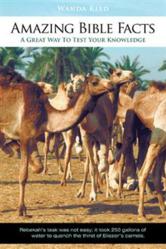 BIG PINE KEY, Fla. (PRWEB) January 17, 2012
Many Bible studies provide information regarding the stories within the Bible, but few contain in-depth studies regarding the culture of the times and its people. In Amazing Bible Facts (published by WestBow Press) Wanda Reed offers readers interesting trivia and information with a more anthropological view.
"It's not just about different ages in the Bible, but about lifestyles, how people lived, and how they made the items they wrote on," says Reed. "It tells about ordinary people in the Bible and how God worked through them to help others and to change nations, so that we can see that He will work through us in the same way to change our lives and others as well."
There are a myriad of interesting facts found within Amazing Bible Facts: information regarding everyday items such as salt, and how it was not only used to season food but used as a weapon of war. Other facts include priests' garments, hairstyles and clothing, education and jobs and many others.
An excerpt from the book:
I have been a Christian for 40 years and 11 of those years part of a Ministry. One of the things I love most about being in Ministry is being able to share with others the things that the Lord teaches me on a personal level, so they too can get excited and have faith to believe that the Lord will work in their lives in miraculous ways as well. I want to share my excitement about the Lord with the world so they too can get excited about Him, because that excitement, and praise makes our faith stronger which "prepares the way for the Lord" to work in our lives.
Amazing Bible Facts is a fascinating book that takes a deeper look at the difficult lives of the people in Biblical times and God's miracle power and the strength of His people. Reed's book has a number of interesting factoids about a number of things within the Bible.
About the Author
Wanda Reed and her husband are blessed with two daughters. They also have a ministry called Gifts From God Ministries, based in Randleman, North Carolina. Reed and her family are creating books for children and adults, aiming to help readers further their walk with the Lord. This is her first book.
WestBow Press is a strategic self-publishing alliance of Thomas Nelson, the world's premier Christian publisher, and Author Solutions, Inc. (ASI)—the world leader in the fastest-growing segment of publishing. Through this partnership, authors benefit from the rich publishing heritage of Thomas Nelson and the speed-to-market advantages of the ASI self-publishing model. Titles published through WestBow Press will be evaluated for sales potential and considered for publication under the Thomas Nelson imprint. For more information, or to start publishing today, visit westbowpress.com or call 866-928-1240.
###