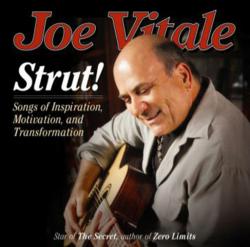 My original and unique music is specifically written to heal the mind, body and soul. It's part of what I'm calling Healing Music.
Wimberley, TX (PRWEB) January 17, 2012
Joe Vitale, entrepreneur, #1 bestselling author and star in the hit movie, "The Secret" has done it again. As seen in Rolling Stone magazine, on January 6, 2012, he has added yet another mega milestone to his long list of accomplishments by completing his first self-help CD for a new genre of music that he calls "Healing Music."
Vitale, who is already famously known as "The author of way too many books to list here," (having written close to over 50 books -- with more on the way and with no indication of slowing down anytime soon), may soon be able to add the working title "The musician of way too many CDs to list here," as he has just completed two CDs, with a third and fourth on their way -- all within a year and a half's time!
His latest self-help CD, titled "Strut," contains 11 original songs written and performed by Vitale that are designed to inspire, motivate and transform the listener.
When asked why the law of attraction guru wanted to write self-help songs, Vitale answered:
"I could have sat back and rested on my book royalties and done little more but sit in the moment and enjoy the sun and stars. But something within inspired me to pursue music.
I've learned to say 'YES!' to the nudges; they lead to miracles. As a result of happily pursuing my new direction, I'm creating a new genre of music to help and heal the world."
When we think of the self-help industry, we automatically reach for books, courses and attend live symposiums. Vitale feels that adding healing music to the mix -- whereby including positive programming into every song he writes -- can further add to the "brain itch" phenomenon, which keeps songs in your head -- in a good way.
According to the BBC News, "Research in the US has found that songs get stuck in
our heads because they create a 'brain itch' that can only be scratched by repeating the tune over and over."
Professor James Kellaris, of the University of Cincinnati College of Business Administration says that "A cognitive itch is a kind of metaphor that explains how these songs get stuck in our head. Certain songs have properties that are analogous to histamines that make our brain itch. The only way to scratch a cognitive itch is to repeat the offending melody in our minds."
Vitale goes on to say:
"In 1969, The Rolling Stones told us – You can't always get what you want
Great music but what's it doing to your thinking?
The Rolling Stones' song example above is exactly why I am creating my own music filled with positive messages. I love music but unless you are aware, it can program you for lack and limitation. My original and unique music is specifically written to heal the mind, body and soul. It's part of what I'm calling Healing Music."
It all began one year ago when Vitale took on the "Rubicon Challenge" by declaring he would sing, play guitar, write songs and record his own audio CD in 2011. Leaping over doubts and working from divine inspiration Vitale-style, passion quickly lead the way and magic began to happen.
Within a year's time, Vitale completed his goal by working tirelessly with his superb team of various coaches for guitar, voice and overall musical lessons, in addition to his longer and more intentional practice outside of his lessons; he found focused discipline to be a good friend with very rewarding benefits.
So what made this author, turned internet marketer, turned movie star, think he could now also become the world's first self-help singer-songwriter?
Vitale replies:
"As I wrote in my #1 bestselling book The Attractor Factor, my rule of thumb is to follow goals that scare you a little and excite you a lot. If I'm giving that advice to others, then I need to take it myself."
To hear a fun sampler of this healing music -- you can STRUT your stuff to: http://getupandstrut.com/
This is more than music.
This is transformation that will make your brain light up in joy.
Media and Performance Requests Contact:
Suzanne Burns
(512) 278-1610
###